AP teachers embrace challenges, joys of higher level curriculum
Hang on for a minute...we're trying to find some more stories you might like.
"
AP is a way to push yourself in high school, achieve the most in high school and keep this basis for life."
— Maryannick Bovard
AP testing is the most stressful time of the year for many high school students. Yet it can be just as stressful for another, often overlooked, group: teachers.
For those who teach these high-level courses, the AP curriculum can be both incredibly rewarding and extremely challenging.
"My favorite part of teaching AP is the challenge for me intellectually to prepare the lessons and to find new ways to explain complicated things," AP Calculus BC teacher Cathy Lory said. "I've accepted the challenge, and I like to do it."
Yet with AP classes comes considerable stress for students and teachers alike.
"There is a huge level of anxiety that goes with AP," Lory said. "Not only my professional anxiety to make sure that the kids are prepared for the exam, but the students also have a lot of anxiety because they feel they are being judged or evaluated based upon those tests."
This anxiety often leads parents and students to overlook the other aspects of AP classes.
"Sometimes when classes are deemed too hard or impossible, people no longer enroll in them, no matter how valuable it could be," Lory said. "If the grades aren't as high as people want, then some of the other value of the education is lost in the conversation."
As a result, teachers like Lory spend a tremendous amount of time helping students learn the material and prepare for the test. Lory said she had at least 15 hours of training before the school year and attended national conferences and workshops with teachers and official AP graders to improve her own teaching methods.
"All of my colleagues who teach AP classes spend hours and hours preparing for our courses," Lory said. "We provide as much assistance as possible, but in the end, the teacher isn't sitting down with the pencil or the pen in the AP test."
Though there is significant pressure on teachers, according to Assistant Principal Bryan Martin, the AP scores ultimately do not affect teacher salaries or school funding.
"For our AP teachers, it's more of a pride thing," Martin said. "We have a lot of highly motivated students, but I think that says a lot about our AP teachers that they have such impressive pass rates."
Last year, Oak Park achieved a 91 percent AP pass rate, well above the statewide average of 64 percent
"For what we're charged to do, we do an excellent job with it," Martin said.
However, many teachers want students to know that there is more to AP classes than just passing a test through rote memorization.
"[AP classes] are not about the scores, but about how much the students learn and get involved with it," French teacher Maryannick Bovard said. Bovard teaches all four French classes at Oak Park, including AP French.
"I love teaching AP," Bovard said. "The kids that take AP are very interested and want to do well."
Last year's AP French class was Bovard's smallest ever, with only four students taking the test. She was forced to combine the AP class with French III, which made it hard to teach the entire AP curriculum.
Next year, however, Bovard will have more than 20 students enrolled in AP, enough to create a separate class.
"I can finally teach the whole course the way it's supposed to be taught," Bovard said.
Though the AP curriculum has its challenges, it ultimately provides students with a good foundation for future education.
"It's important to have as many AP opportunities for students in any subject because that shows the quality of the high school and the district," Bovard said.  "AP is a way to push yourself in high school, achieve the most in high school and keep this basis for life."

About the Writer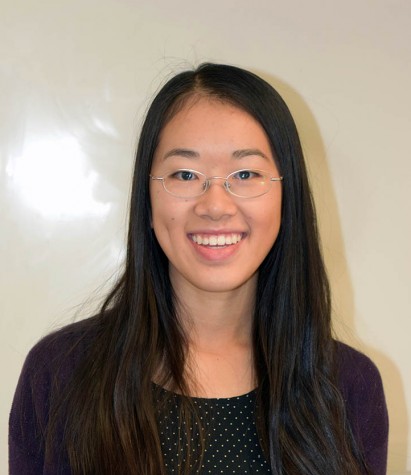 Irena Yang, Former Editor-in-Chief
Irena Yang served as the online editor-in-chief and print art director for the Talon. She has been published in the print newspaper, Teen Ink Magazine,...