Review: 'The Babadook' exposes demons both internal and external
"If it's in a word or it's in a look, you can't get rid of the Babadook."
The newly released psycho-thriller, "The Babadook", redefines the genre of current horror movies. Australian director Jennifer Kent does not disappoint in her debut film, drawing her movie's viewers to question insanity itself and the blur between fiction and reality.
Kent masterfully terrifies audiences without the typical utilization of jump scares or CGI effects, but rather through the possibility of a growing insanity within, stimulated by one's own self rather than a typical paranormal entity.
The Babadook can be seen as a manifestation of subconscious guilt that Amelia (Essie Davis) suffered towards her dead husband. It is a metaphor for the pain and dread she felt after his sudden death on the way to the hospital as she was giving birth to her son Samuel (Noah Wiseman). She first learned to bury the guilt, locking it away in the depths of her mind— but it soon reawakened. Kent beautifully dramatizes this transition through deeper levels in the movie through the metaphor of the door leading to the basement. It remains locked until Samuel's birthday, the day of her husband's death, in which these negative feelings flood her mind. Then, the Babadook is born.
Samuel is plagued by nightmares and the possible existence of monsters. He spends his time building slingshots, trying to master magic tricks and switching schools as a result of his obsession with monsters, which scares the other kids at his elementary school. Samuel is also a nuisance at home, constantly a hindrance to his mother, contributing to the stress and anxiety that torture Amelia.
"The Babadook" was Wiseman's film debut, at a mere age of seven. His depiction of a troubled, distraught young son dealing with a misery-plagued family situation showed much maturity beyond his age.
Six years after Amelia's husband's death, she is still haunted in her dreams; however, when she wakes up, her nightmares seem to continue. One day, when trying to subdue her son and get him to fall asleep, he chooses a mysterious book to read that he finds in his bookshelf…Mister Babadook. Kent's screenplay is perfectly ironic as Amelia, once a children's book writer, introduces her son to what perpetuates his obsession with monsters. Babadook, an anagram for "a bad book," releases a pitch black nightmarish creature that jumps out of the pages and into the shadows, both literally and figuratively.
The book and the Babadook act like demons refusing to leave, claiming their territory until Amelia either succumbs to or defeats her inner demons. Much of the horror that the Babadook causes is due to the belief that he is an external demon invading an eerily still home, but the most creepy part of the movie is how much the guilt and resentment and darkest emotional fears of the mother cause her to hallucinate into an almost murderous, psychotic state.
Davis shines in her role as Amelia, hooking viewers to her presence on screen, forcing them to feel the paranoia that she feels. This is her breakout role as a leading actress, expertly blurring the lines between appearance and reality through her obsession with the Babadook. She gives an outstanding performance as a possessed woman who is taken over by monstrous forces, the Babadook and her buried feelings towards her son and dead husband. Her performance makes us question whether the Babadook is truly a demonic force to be reckoned with, or if she and her son's paranoia and delusions took over her mental state, shifting her ability to make sense of what is real.
Jed Kurzel's musical composition adds to the suspense and horror that builds as Amelia's sanity slowly disintegrates.
About the Writer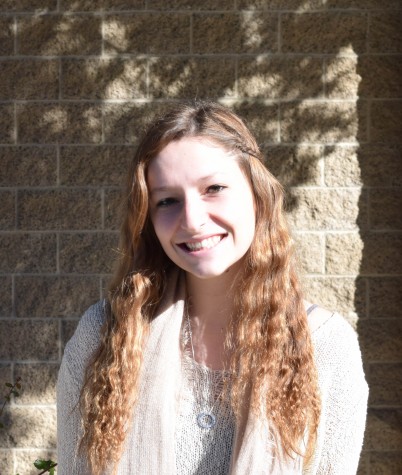 Giselle Langley, Staff Writer
Giselle Langley is a senior at Oak Park High School who desires to study public relations or business in the entertainment industry. She has played volleyball...