Review: Poetic realism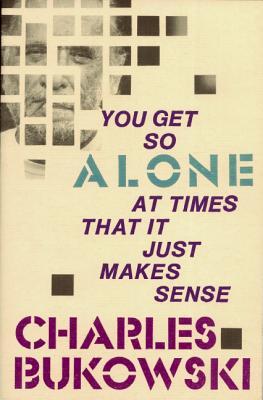 Hang on for a minute...we're trying to find some more stories you might like.
The words minimalist, pessimist and genius are three that come to mind when describing Charles Bukowski. His repertoire of iconic short stories and poems sparked a revolution of writing that redirects the typical focus on flowery, sappy romance towards a more realistic view of life. Bukowski created his own hybrid form of more interesting storytelling and poetry. He doesn't stop to smell the roses, but rather runs over them. In short, he makes reading poetry fun. His rough, sometimes imposing style of writing is prevalent in his 1986 book "You Get So Alone at Times That It Just Makes Sense."
In his compilation, Bukowski uses past memories and mistakes to create a thinly fabricated timeline, bringing up everything from young childhood immaturities to binge drinking. His poems feel like a sharp blow of reality with the help of blunt and raw language. He describes things as they truly are, not what he wishes them to be. Many of his early poems in the book consist of him discussing life experiences by starting each stanza with "I remember…", evoking a reflective mood.
Of the dozens of poems he's compiled into one anthology, a couple stood out to me above the rest, the first being "Lifedance." In it, he says "The area dividing the brain and the soul is affected in many ways by experience / Some lose all mind and become soul: insane. / Some lose all soul and become mind: intellectual. / Some lose both and become accepted."
The first thing I thought while reading this poem was how scary and true the final stanza was. A bland and generic human being without soul or intelligence remains another pawn under society's control.
Specifically in "Lifedance," readers can see a big shift from the romantic poetic legacies of Shakespeare and Pablo Neruda to a series of vexed statements about categories formed by society. This type of fearless writing style that's hard to copy is what made this and many other poems of his so famous and admired.
Another poem that struck me was "No Help for That," one of the first poems I had ever read from Bukowski. In the 20-line, more personal and emotional piece, Bukowski writes, "there is a place in the heart that will never be filled / a space and even during the best moments and the greatest times / we will know it / we will know it more than ever / there is a place in the heart that will never be filled / and we will wait / and wait / in that space."
Despite having a stony exterior in his writing, Bukowski adds personal emotion and feelings to show his more sensitive nature. Rather than emptily speak of love or relationships, he uses this poem to accent the missing parts in his own life that only he can sense and feel. The empty space he refers to seems to be one that people often leave for others to fill, even when it doesn't need to be. The lack of self-fulfillment that is portrayed in this poem through an "empty space" shows how we can only reach a sense of satisfaction in life.
Bukowski: a brilliant poet, a short story mastermind, and an inspiration to readers and writers everywhere. He is a man who scares you with his blunt truthfulness but makes you fall in love with it. He takes you back in time to his teenage years in less than 25 lines, all the while reminding you to look at the world like a window, not a mirror — which was the main reason I decided to write about him. Through blending the stark opposites of literary euphoria and dysphoria together, he makes the entire reading experience worthwhile.