Club organizes fundraising walk
National Alliance on Mental Illness Club raises more than $1,000
The National Alliance on Mental Illness Club — which strives to inform others about the seriousness of mental illness and and help those who suffer from these illnesses — held a 5-kilometer walk in Oak Canyon Park to raise money Saturday, Dec. 5.
"I thought we actually had a pretty good turnout. We had about 150 participants. I'm very proud of the club members and the county chapter," senior and NAMI Vice President [Office1] Emily Markarian said.
This is the club's second year hosting the event. During the club's first year, it raised over $4,400. This year, senior and NAMI President Aneesh Gowri, who started the Oak Park chapter of NAMI in 2014, wanted to surpass this figure, but only raised a donation of about $1,300 due to lower turnout.[Office2]
"I think one of the reasons we didn't have an attendance as great as last year is because we didn't advertise as much," Gowri said.
Senior and club treasurer Sarah Lee felt that the time of year was another obstacle for students.
"Our students are really academically focused, so it's really hard to get them to come out on a Saturday at this time of the year when finals are approaching," Lee said.
NAMI members had been planning this event for three months. In preparation for the event, the club members contacted the NAMI affiliates in Ventura County for approval of the walk, the Oak Park Parks and Recreation department for a park permit and local businesses — such as Trader Joes and Ralphs — for donations.
According to Gowri, fundraising events — such as the walk — as well as informational presentations help "raise awareness" about the existence of mental illness not just nationwide, but also in Oak Park.
"Mental illness is something that many people don't think about, but should still be addressed because the problems that people struggle with on the inside are just as bad as those that are physical," sophomore club member Kavya Juwadi said.
Senior and club secretary Jack Whitely also joined the club in hopes of educating students on the reality of mental illnesses.
"I think there's a large stigma on mental illness, so having NAMI helps portray the possibility of solutions for these illnesses," [G3] Whitely said.
NAMI will use the club's donation to provide resources to individuals suffering from mental illness and increase nationwide awareness of mental illness by funding education classes and research.
About the Writer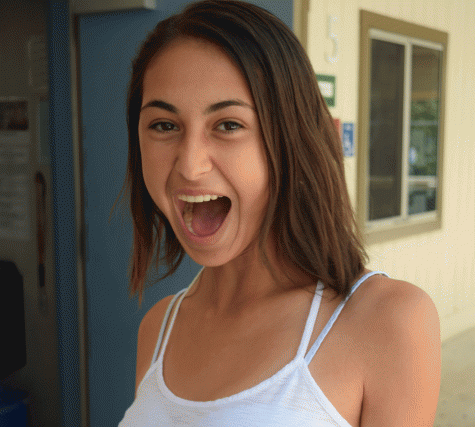 Nicole Schwartz, Online Opinion Editor
Nicole Schwartz has an appreciation for jokes with awkward punch lines and will laugh at nearly any Yo Mama joke ever imagined. She enjoys writing, yet...