English anthologies go digital
Department chair Kathy Bowman: Change is 'confirmation that Oak Park is on the right track'
With the upcoming 2016-2017 school year, the English department will be acquiring new Chromebooks to supplement the school's old textbooks.
The teachers agreed to adopt the Chromebooks after they created a digital library, an archive of works that includes digitalized printed works as well as links to other digital media such as videos and podcasts.
Everything in the new library corresponds with the existing curriculum, and is designed to help students connect what they're learning to current events.
"This year is an adoption year, so money was set aside for us to get new textbooks," English teacher Caitlin Fowler said. "However, we realized we weren't really happy with the textbooks we were looking at … we would rather have more flexibility to shape our curriculum."
"
We weren't really happy with the textbooks we were looking at … we would rather have more flexibility to shape our curriculum,"
— Caitilin Fowler
According to Fowler, the English department ultimately "decided that the money would be better spent on Chromebooks so that [it] could access the newly-created digital library."
Consensus was reached amongst the teachers at a department meeting, which was held at around the same time the Western Association of Schools and Colleges accredited the school in February.
"One of the people from the WASC committee who had worked at a school was set on developing an English curriculum with other high schools," English department chair and teacher Kathy Bowman said. "I sought her feedback when she came into my classroom, and she told me that her school was doing something similar."
Bowman saw this as "confirmation that Oak Park is on the right track."
Many students are responding to the new advancements in technology with positive feedback.
"Oak Park is a very next-generation school," sophomore Itay Dvir said. "Whenever there's more technology like this involved, people are naturally more interested in learning."
Junior Melissa Liu is "happy that Oak Park is implementing these changes in its classrooms."
"However, I don't believe that this should completely replace reading paper novels and doing written assignments," Liu said.
Teachers agree that the new technology should not — and will not — replace more traditional ways of learning. Those who want to continue using anthologies from textbooks will still have the option to buy hard-copy books to augment the digital library.
Although the old textbooks will remain accessible, no new textbooks will be purchased. In addition, students may now read off of the Chromebooks.
"It's not that the English department feels like the old way of doing things — pen-and-paper, with actual concrete books — isn't valuable anymore," Fowler said. "It's just that there are so many exciting possibilities to enhance what we do."
Bowman agreed that the Chromebooks would help make student learning more accessible.
"The teacher is the one forming the connection with the student, so we can't lose that personal approach, that student-teacher connection," Bowman said. "As we move forward in technology, the Chromebooks are just one more resource we can use to make that happen."
About the Writer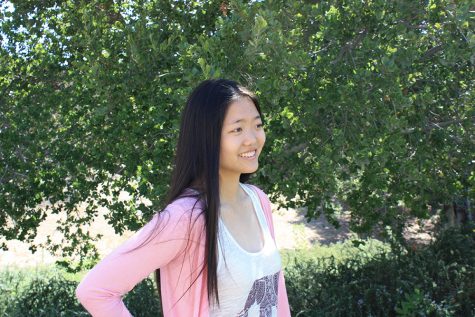 Michelle Chen, Former Opinion Editor
Michelle Chen served as the opinion editor for the 2016-17 school year; she served as the online editor from August to October of the 2017-18 school year.