Students wear purple to remember Gabriella Chabot
Oak Park High School students give their respects to Gabriella Chabot, a freshman at La Reina High School.
Hang on for a minute...we're trying to find some more stories you might like.
14-year-old Gabriella Chabot, freshman at La Reina High School, died Feb. 8 of complications from the flu. Chabot would have celebrated her 15th birthday on Feb. 16, 2017.
Following her death, the La Reina community and all neighboring communities came together to mourn Gabriella's death and celebrate her life.
"Today I experienced what no father should. I lost my daughter … my angel Gabriella Chabot. We are heartbroken … I love you peanut! Papi will never forget you. You will always be my angel," father Michael Chabot posted on Facebook.
According to her father, Gabriella's death was unexpected.
"I drove her to school that day and kissed her," Michael Chabot said.
That day, Gabriella left school early, not feeling well. She went home, put on her pajamas and went to bed.
"She's just like, 'I'm going to take a nap,' then just stopped breathing," Michael Chabot said.
Gabriella presented flu symptoms in late January, but returned to school soon after. She went to the doctor twice and tested positive for influenza type B.
Ventura County health officials reported that there have been 35 flu-related deaths in the county this flu season.
"Regardless of whether or not you believe in vaccinations or not, all the medical research has shown that it is important to get vaccinated," Oak Park High School counselor Randy Mclelland said. "It reduces your chances of contracting illnesses significantly."
Michael Chabot urged the community to not panic, but "listen to your kids."
After her death, La Reina High & Middle School sent an email to parents.
The letter, in part, read, "The La Reina community shares in deep sorrow with the Chabot family upon the passing of their daughter, Gabriella. We stand ready to support them through this time in every way we can."
The community was shaken by Gabriella's sudden death.
"The day she passed, I was on a bus ride heading home from a soccer game, and my friend called me. Since I grew up with Gabby, I was absolutely shocked and I cried the whole way home, which was a one-hour bus ride. That night, all of my friends came over and we all just sat in my room and cried and talked," childhood friend and La Reina High School junior Shaeli Young said.
Young remembers Gabriella as having a "unique sense of humor that always made me laugh."
"I've known Gabby since kindergarten. She loved old music and Teen Wolf. She played tennis. She was shy if you didn't know her but very outgoing once you did," Young said.
Hundreds of parents, students and teachers attended a vigil that was held the next day, Friday, Feb. 9 at 6 p.m. According to Young, students and faculty came to school that morning with heavy hearts.
"School the next day, we all put flowers and notes all over her locker and the lockers around hers," Young said. The school was very helpful and didn't make us go to class. They brought in counselors from other schools, too."
The following Monday, La Reina students and faculty wore purple, Gabriella's favorite color.
"I was very proud of my community during this time," Young said.
Other schools in the area followed suit and wore purple on Tuesday.
"We're wearing purple for Gabriella," Oak Park High School senior Amogha Koka said. "We're not used to seeing people die from the flu. Hearing about her death hit very close to home."
Gabriella's funeral was held Tuesday, Feb. 13 at Saint Maximilian Kolbe Catholic Church in Thousand Oaks. Over 1,000 community and family members attended. La Reina cancelled school to allow students to attend.
"I just want them to remember her," Michael Chabot said. "This is our new reality and I don't want people to forget her."
About the Contributors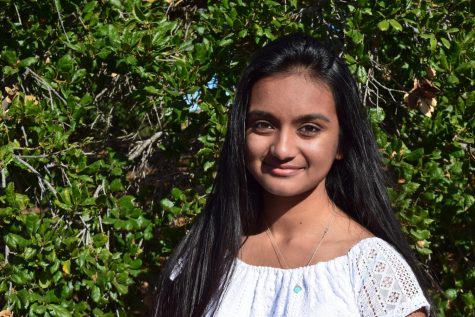 Medha Vallurupalli, Former editor-in-chief
Medha Vallurupalli served as print and online editor-in-chief during the 2017-18 school year; online editor-in-chief and news editor during the 2016-17...