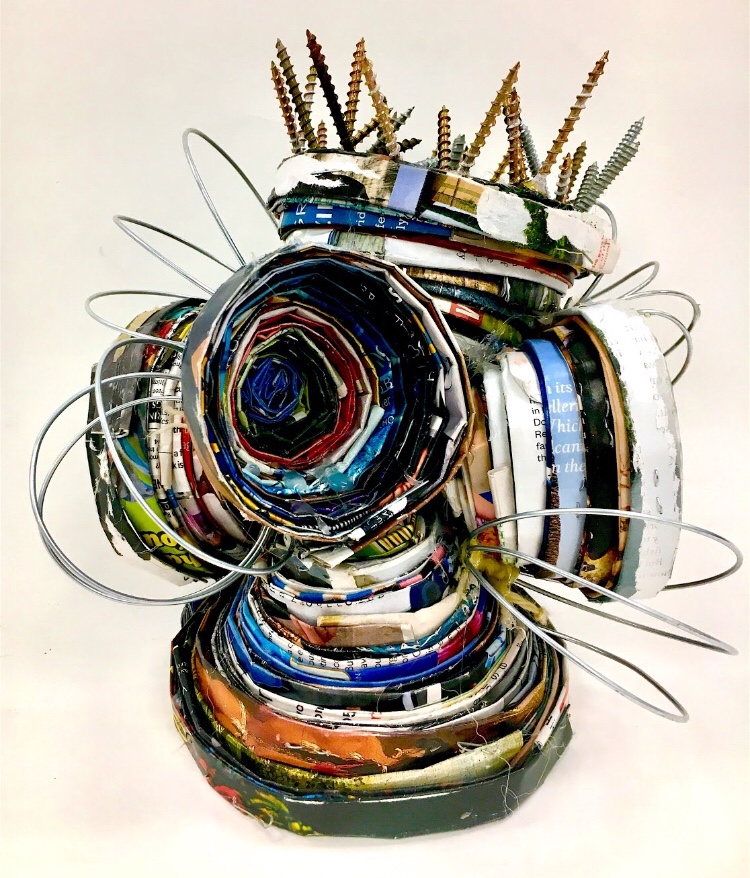 Photo Courtesy of Alissa Abrams
Hundreds of artists. Seven high schools. One valley-wide art competition.
Ten Oak Park High School students were selected to participate in the Conejo Valley High School Student Awards Juried Art Show Friday, Apr. 13 at the Agoura Hills Cultural Recreation Center.
The Conejo Valley High School Student Awards Juried Art Show is an annual art show and competition sponsored by the Westlake Art Guild. The competition is open to 11th and 12th grade students throughout Conejo Valley.
The competition is application-based; this year, the competition had over 400 applicants from various high schools, as well as home-schooled students.
Each applicant could submit up to two art pieces and these entries were then narrowed down to fewer than 100 pieces of art. These pieces were judged by a committee of eight individuals involved in the arts in Conejo Valley.
Art teacher Anna Bojorquez said she appreciated the simplicity of the application process.
"Sometimes art contests will say, 'are you majoring in art?' or 'what's your intention?' and that's nice, but sometimes people will judge things and give awards based off what you're going to do later," Bojorquez said. "I feel like we should just be congratulating and be proud of our kids for doing what they're doing right now. If you're inspired, and you're creative and you're an artist right now, that should be good enough."
The show had four categories: 2D design, 3D design, color photography and monochromatic photography.
Junior Alissa Abrams placed first in the 3D design category for her sculpture "Modern Media." She says the sculpture was originally nonobjective but gained symbolic meaning as she worked on it.
"The longer I looked at it the more it reminded me of everything going on in the news, like all the stories regarding Trump and his administration, the major protests taking place and acts of violence," Abrams wrote.
3D design teacher Ian Fullmer urged Abrams and the rest of the Advanced Ceramics class to submit pieces to the show. Junior Sam Hollander's 3D submission was also chosen for the show and subsequently received an Honorable Mention.
Hollander says his piece, "Down To The Wire," was inspired by American consumerism.
"The project itself is made from all discarded cans and metal," Hollander wrote. "[This,] along with the emptiness of the cans, [ties] into the wastefulness all around us."
Hollander says he has always enjoyed building with "random materials" but didn't start taking art seriously until he took an art class at Medea Creek Middle School.
"I don't really know where some of the inspiration comes from sometimes," Hollander wrote. "I just begin to mess around with materials until it begins to take form, then work from there."
Bojorquez, like Fullmer, urged juniors and seniors in her classes, especially in AP Art, to submit pieces.
"They need to be pushed – everyone thinks they're not good enough, and no one really knows their potential," Bojorquez said. "I told them, 'sometimes it's not the best person who wins, but it's the best of who applies. A lot of the kids don't even apply.'"
Four OPHS artists placed in addition to Abrams and Hollander. Senior Jillian Rifkind placed first in monochrome photography, junior Arielle Saida received an Honorable Mention in 2D design and senior Hayley Blake received a memorial award. Junior Reyna Yang placed third in 2D design and also received the Mayor's Award – her two piece "A Mermaid's Dream" was Agoura Hills Mayor Harry Schwartz's favorite piece in the show.
Yang says her piece, "A Mermaid's Dream," was inspired by the work Instagram artist Miho Harano.
"[Miho Harano's art] combines flowers and girls together. When I first found her Instagram page, I was like, 'wow, this is exactly what I am aiming for in my art journey,' and she became my biggest inspiration from that time," Yang wrote.
Bojorquez said she believes participation in the show was a valuable experience for her students.
"Not very many times as a high-schooler will you have an opportunity to frame and display your work in such a professional setting," Bojorquez said.