Photo Courtesy of Reyna Yang
#Humboldtstrong
After tragic loss of Humboldt's hockey team, people gather money to support the small town in Western Canada
May 8, 2018
Humboldt, a small town in Western Canada with extreme pride for their Humboldt Broncos hockey team, even for Canadian standards, was left devastated after a crash between a tractor-trailer and the bus carrying the team. The April 6 accident left 16 dead and 13 injured and hospitalized.
There were 29 people inside of the bus including the driver –– 23 players, two coaches, the team statistician, the team radio announcer, the team athletic therapist and the bus driver — 23 unsuspecting hockey players who were on their way to participate in a playoff game in Nipawin to compete in a sport they loved.
Oak Park High School senior and hockey fanatic Jared Catone shared his initial reaction when he heard of the tragedy.
"I heard about Humboldt a few weeks back, and I saw it on the morning news. I actually spilled my coffee because I was so shocked, just utterly shocked and filled with grief," Catone said.
Catone's older brother played hockey, and he has many close family friends who play as well.
"When I first heard about his, I thought about my neighbor Connor. He's up in Alaska playing competitive hockey and spends a lot of time on the road so it really concerned me," Catone said. "I consider him a brother even if the blood doesn't prove it, but I instantly shot him a call just to hear his voice. It's awful that something so tragic can happen doing something you really love."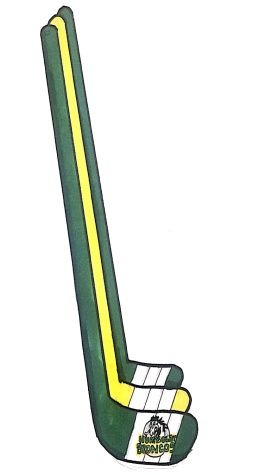 Although Catone does not play the game, the hockey community's response and the player's response did not differ. Like Catone, Oak Park High School senior and California Titans hockey player Jake Pisarcik commented on what happened in Humboldt.
"Having been on those buses countless times and countless hours, you never expect anything bad to happen. You trust the drivers, and you just focus on what you need to worry about as a player. But, having to think about what happened and how sudden it was and the severity of it, it just completely blew me away and how many families it affected and how many other people it affected," Pisarcik said.
According to Pisarcik, hockey is known for creating tight-knit teams that consider each other to be family. Players spend hours in the rink practicing with their teams, and the game has created a community of like-minded athletes and families who all have one goal: to compete and win.
Oak Park High School senior and ice hockey goalie for the California Mariners and East County Outlaws, Emanuel Kaufman, expressed his thoughts following the incident.
"This really hit home with me because some of the guys on the team were actually my age or around it. What hit me the hardest was when I saw a picture of three players all in critical condition holding hands with each other in their hospital beds. Your teammates are your brothers and seeing them still stick together after losing 14 of their brothers was both heartwarming and heartbreaking," Kaufman said. "It really broke my heart especially because I've played so many years of hockey and I've gotten so close with so many teammates and I just could not imagine being in their shoes."
According to both Kaufman and Pisarcik, the hockey community's response to this tragedy exemplifies the heart and compassion present within such an otherwise physical sport. People wanted to help the friends they considered family. Following the crash, a GoFundMe page was started by Humboldt resident Silvie Kellington. She called the fund, "Funds for Humboldt Broncos" with the intention of raising money for the families of the victims of the crash. The initial goal was to raise $600,000 for the victims' families.
When the page stopped taking donations it had received a total of $15,175,500, from over 142,000 individuals, from countries across the world — over the span of 12 days. On the first day alone, donations topped $2.5 million.
Not only did the hockey community respond by collecting money, but they also started a movement called #SticksOutforHumboldt where people can leave hockey sticks out on their front porches, outside of hockey rinks or anywhere else to pay respect to the players who were lost in this tragedy. The idea behind the hashtag was to leave sticks out so the victims could return in spirit and play their beloved sport once more. Kaufman commented on the community's response.
"
I was amazed by the hockey community's response to this but it was exactly what I would have expected. Even though teams don't get along with each other on the ice, it is such a tight knit community and everyone has nothing but respect for each other"
— Kaufman
The National Hockey League organization, as well as individual hockey teams, have taken action to honor the Humboldt Broncos. The day after the tragedy occurred, there were a total of 15 NHL games scheduled. At each game, a moment of silence was taken in memory of those lost in the accident. Each team also performed individual respects to the Broncos in order to further support the families and victims.
The Chicago Blackhawks and Winnipeg Jets gathered in a circle at center ice with every team member wearing a jersey with the word Broncos in place of their last names. Players competed in these jerseys for the entire game.
Outside of the hockey community, many celebrities and public figures have responded to what happened to the Broncos. Rapper and singer Aubrey Drake Graham, popularly referred to as Drake, posted a picture on Instagram wearing a Humboldt Broncos jersey while at an NBA game with a caption holding the hashtag, #humboldtstrong.
The public is now left wondering if the survivors will return to the ice or become spectators of the sport they once competed in at an elite level.
"I think for the guys who are lucky enough to continue playing, you fall in love with hockey…you fall in love with it at an early age and after this happened the guys who can still play are going to play with more of a purpose," Pisarcik said. "I don't think they will take this and stop. I can't speak for what they're going to do, but I think what most of them will do is they will play for the guys they lost so they can continue to do what they've always loved to do and they can do that for the guys who aren't physically with them anymore."