Lily Graeff to attend Moorpark College in the fall
Graeff to pursue graphic design
Hang on for a minute...we're trying to find some more stories you might like.
Senior Lily Graeff is going to Moorpark College this fall and is planning on transferring after two years. She said she would prefer to go to community college for two years rather than go right into a four-year university because she would rather pay much less for the same generalized education.
Graeff plans on studying graphic design and pursuing that as a career. She is looking into possibly working at an advertising company and using graphic design as a medium to make logos. As of now, her favorite medium of art is painting; she tries to paint at least once a week.
Can you tell me a little bit about your art?
I'm passionate about creating stuff that catches people's eye or makes them feel a certain way. I like capturing the beauty around me. For instance, I mostly draw people. I like capturing people in different expressions or emotions, and then I like putting a twist on it. Like, instead of making it natural skin-tones, I like to make it neon colors or I add designs to their skin tone. It pops the whole thing.
Who is your favorite artist and why?
I love Vincent Van Gogh. His brush strokes … phenomenal. He broke barriers for his time and I think that's amazing. He was very mentally handicapped, and it's a fact that he had depression. He actually was put into psych wards. He cut off his own ear, and he also ate yellow paint because he was depressed and it was supposed to make him happy. He was the most prominent artist that had mental disabilities at the time, and he worked with that in his paintings.
Do you have any pieces that are inspired by him?
Yes! I actually have a couple. So, I painted [my friend's] shoes "The Starry Night" and "Sunflowers." Also, I have pants that I painted that have three of his works. It was "The Starry Night" up top, in the middle it is "Wheat Fields" and at the bottom, I painted "Sunflowers."
Did you always think you would go into a career involving graphic design or were your thoughts elsewhere?
No, I didn't. For the longest while, like 6th grade through junior year, I was like 'I'm going to go into biology because I really like biology.' But, then I realized if I had a job in that, I wouldn't be as happy as going into a career with art because art is my passion. I know that if something's my passion I'll do anything and everything to make that work for my life.

About the Contributors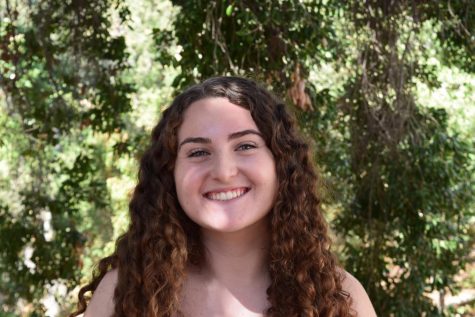 Amanda Lurey, Club Director
Amanda Lurey served as the Talon club director for the 2018-2019 school year and a news editor for the 2017-2018.