Claire Epstein to attend University of Pennsylvania
Epstein to continue involvement in "intercultural dialogue"
Senior Claire Epstein will attend the University of Pennsylvania this fall, where she plans to continue her advocacy for Chinese adoptees. She will most likely major in Political Science, East Asian Studies or Cinema Studies. She plans on minoring in Penn's Legal Studies and History program.
Epstein wrote to the Talon about where she's been and what her future holds.
How did you get involved in advocacy for Chinese adoptees?
After studying abroad through the NSLI-Y State Department scholarship in China, I wanted to discover more about my personal history with being adopted from China. I applied for then got the position of Birth Parent Search Resources Coordinator for China's Children International, a non-profit organization run by and for Chinese adoptees to learn more and share their experiences.
What has been your most memorable experience so far?
I was able to connect with a Chinese adoptee my age, who also lives in SoCal and wants to find her biological family. Her family put her up for adoption because of the one child policy and was adopted at an older age than I was, eight as opposed to one. I had heard of stories like hers before, but it was pretty profound being able to talk to her about her life experiences, especially because she felt like she had no one else to talk to.
How did you feel when you got into UPenn?
I was ecstatic! I found out during an AcaDeca meeting and got to experience the acceptance excitement with my team.
Do you plan to continue your activism in college?
Yes, I am eager to continue to help the China's Children International (CCI) community grow and share information for Chinese adoptees. CCI allows for an important forum of discussion for adoptees to exist.
Tell me more about your experience studying abroad in China. What was your biggest takeaway?
The Department of State's NSLI-Y program is geared toward improving the language proficiency of students who want to learn target languages (Arabic, Chinese, Hindi, Korean, Russian…). I spent 6 weeks in China in a Chinese university then with a host family. What I took away most from the experience is the importance of intercultural dialogue — for our country and for us individually.
How has your involvement in Academic Decathlon shaped your interests?
The topic our AcaDeca team covered in my junior year was Africa. Learning about the history and cultures of different African countries sparked my interest in the diverse communities that exist around the world.
Coffee or tea, and why?
Tea. I don't like caffeine.
But doesn't tea have caffeine too?
Not all tea. I like fruity teas.
Favorite Disney character?
Ray, the firefly from "Princess and the Frog!" His optimism and fearlessness inspired me when I was younger. While he was a teeny dude, he embodied the strength and contentment I think most of us try to attain in life.
About the Writer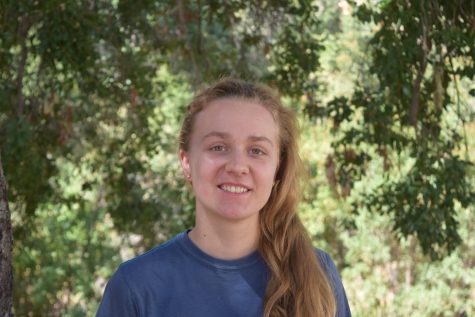 Katya Kiseleva, News Editor
Katya Kiseleva is a senior at Oak Park High School. She is currently one of the 2018-19 News Editors.