Athletes of the Week: Luke Spooner, Dylan Natcher, Sebastian Sawyer, Maya Baumann, Sophie Kuchan, Derica Chiu and Nina Russillo
A week of seven athletes included Maya Baumann for cheer, Sophie Kuchan for girls' volleyball, Derica Chiu for girls' golf, Luke Spooner for boys' beach volleyball, Dylan Natcher for football, Sebastian Sawyer and Nina Russillo for cross country.
Coach Eric Varney of boys' beach volleyball says Spooner "has played with multiple different partners, proving his value, and has the best overall record on our team, and ties for the best overall record in the league as well."
"I love playing beach volleyball because the boys on the team are a lot of fun to play with and it's a really layback sport that you can play anytime. The best part of OP beach volleyball is winning and getting to play with very top-level players like Luke Dalton," Spooner said.
Natcher was also chosen for athlete of the week due to his "17 tackles against Mission Prep."
"I love [football]. I love the way we've been playing this year, I think we're doing better than a lot of people expected, which is amazing. I'm excited to see how we play moving forward," Natcher said. "The attitude of the team [has changed this year]. We're really more focused on winning, doing it as a team and having fun together."
Cross country produced two athletes of the week, Russillo and Sawyer. According to cross country coach Steve White, "Sebastian won his race Saturday at the Woodbridge Invitational running a 14:45 for 3 miles. His time was among the faster of the day."
Russillo was picked for athlete of the week for being the "first Varsity runner to cross the line [by running] a very good 19:27."
"Two of the things that keep me motivated are my competitive nature in sports (I love a challenge) and my incredible team. I've never been on a team that has felt so much like family. The friendships I've made and support among teammates motivate me to work harder," Russillo wrote to the Talon.
According to head coach Kathy McCormick of cheer, Baumann "embodies [cheer's] core values day in and day out: committed, accountable, respectful, and [she] gives 100% effort 100% of the time."
"Maya was awarded All American at UCA cheer camp this past summer. Maya also was the only cheer team member who volunteered at coastal cleanup day with me. She goes above and beyond all the time, and I believe she is a model student as well (and she is our only tumbler on varsity)," McCormick wrote to the Talon.
Baumann was "really surprised, but [she] felt super happy and honored to get it."
"I have a real love and passion for [cheer] and it would be really hard for me to give it up," Baumann said. " I love performing for the crowd, especially tumbling and dancing, I love working with my stunt group to learn new stunts, I love my teammates and I love the memories that we make each season.
While Baumann doesn't "know if [she's] going to cheer in college," in OPHS cheer, she appreciates the "the sense of community and family."
"I've made so many good friends there, and the coach really cares about all of us, and it's such an amazing experience to be able to work together to achieve new goals," Baumann said.
According to Coach Kendall Bilbruck of girls' volleyball, Kuchan was nominated for athlete of the week due to her "amazing serving runs during [their] matches [and] getting [the girls' volleyball team] some big leads" prior to her concussion.
Kuchan, who "was surprised, but was really excited" to win athlete of the week, loves volleyball because it "is all about your mentality and staying positive while working hard and developing communication and leadership skills on and off the court."
"The support from the coaches and the sisterly bonds throughout the program is what motivates me to be in volleyball," Kuchan said.
Chiu has been playing golf since she was 8-years-old.
"I do love golfing, I love it because it challenges me in different ways and I always meet new people who share some of the same interests with me," Chiu said.
Chiu was nominated by her girls' golf coach, Donn James, for "stepp[ing] up wonderfully after an injury sidelined Ashlynn [a fellow player on the girls' golf team]. Derica, a freshman, has been a medalist for three straight matches leading the team to its 5-0 record."
"I joined golf because I have been playing it since I was a little kid. What motivates me to keep playing golf is seeing the results and the progress I have made each time," Chiu said. "If I play really [well], then I know that my efforts in practicing have paid off and I can keep working to try to get an even better score."
All seven athletes continue to represent OPHS in their various sports, GO EAGLES!
About the Writer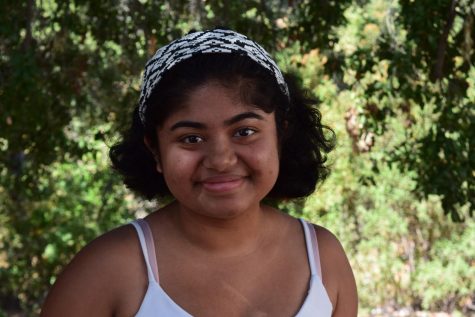 Atmika Iyer, Editor-in-Chief
Atmika Iyer joined the Talon in the 2016-2017 school year as a staff writer and continued for the 2017-2018 school year. She became the Opinion Editor...