Where literature meets nature
Profile of OPHS English teacher Jennifer Hankins
A snowboarder. A mother. A marathon runner. And an English teacher at Oak Park High School.
Jennifer Hankins's story at OPHS began in 2006.
"I came primarily because we had just moved from another part of LA and I needed to find a new job. So I interviewed at Oak Park and it led to my being hired and it's been the best experience since," Hankins said. "I'm really grateful to be here and as far as I'm concerned if I had full control over it, I would just want to be here for the rest of my teaching career."
Although being an OPHS English teacher for over 13 years, being a teacher was not in Hankins' plan for her future. Instead, she wanted to be a high school counselor.
"When I was in high school I had really good counselors and I thought what a great thing to do to be able to help high school students through high school," Hankins said. "But then, I don't remember who, but someone said 'well it would make more sense to first be a teacher because then as a counselor you can help students better if you've also been a teacher'- which made a lot of sense to me."
The plan was to get her teacher credentials and gain experience first. However, the classroom environment persuaded Hankins to make teaching her career.
"After having some experience being in the classroom, plus seeing what counselors really do, I decided that I [didn't] really want to pursue that and just wanted to stick to being a high school classroom teacher," Hankins said.
Currently, Hankins is teaching three English III Honors classes. Part of why she loves OPHS is the people, they make all the difference, she says.
"The people, whether they're students, teachers, administrators or other staff, are really good people," Hankins said. "Obviously nice and kind and all that but also, great colleagues to work with and the students are very respectful, caring and motivating, they want to succeed."
In addition, Hankins loves OPHS because of the many options that are offered.
"Everything from academics to extracurricular options," Hankins said. "I feel like I've always touted Oak Park as a public school, yet in many ways, the size of it and what it has to offer can be very much like a private school. I think the opportunities here make it really special."
When not teaching students about "The Scarlet Letter" or "The Crucible," Hankins can often be found outdoors.
"As an English teacher I love reading of course and then just being active," Hankins said. "Whether it's running, or in the winter going snowboarding, just being outside in nature is really important to me."
Hankins qualified for the Boston Marathon and has completed a 50 mile run in Lake Tahoe.
"Several years ago I switched from running on the road to running trails and doing ultramarathons: anything that's above just the 26.2 miles distance," Hankins said. "The longest distance I've done is a 50 mile run in Lake Tahoe. You have elevation in the mountains and then also being able to run and finish that distance."
From being a well-liked teacher to running ultramarathons: Jennifer Hankins has got it all.
About the Writer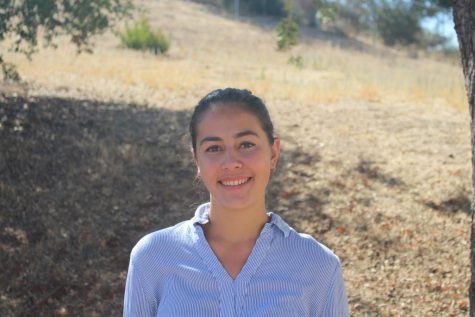 Leonie Humig, Senior Staff Writer
Leonie Humig served as a Senior Staff Writer for the 2019-20 school year.