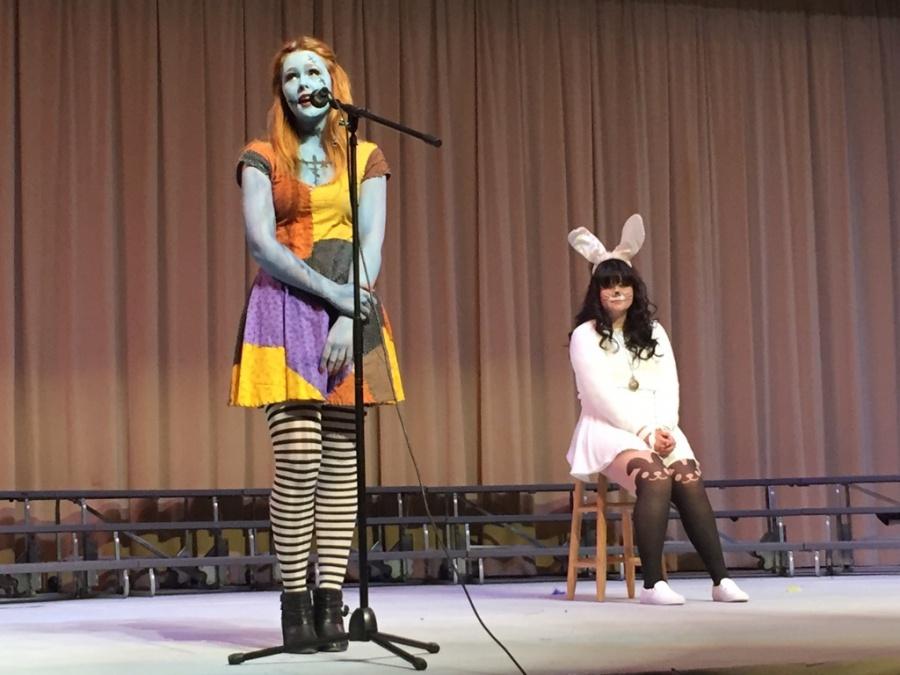 The happiest night on Earth
Choir program's Disney-theme combines songs from various Disney productions
November 20, 2015
Members of the choir program performed at the annual Disney-themed concert in the Pavilion Nov. 6.
The concert's storyline was written by choir leadership, and revolved around themes of love and magic. Seniors Allie Mueting, who played Alice, and Nick Singley, who played the Mad Hatter, co-hosted the concert. Mueting and Singley acted and sang throughout the concert, guiding the audience through a crossover plot of various Disney productions. In addition, senior Lexie Maldonado played the White Rabbit, and senior Savannah Hale portrayed the recurring antagonist as the Red Queen.
"I think this year's show was quite elaborate and had an intricate plot line," sophomore and choir member Anika Krishnan said. "It was very fun to watch, and it was incredibly successful."
In between skits, select choir members sang well-known Disney classics while wearing corresponding costumes. These skits were also choreographed and included small props.
"
Choir is one big happy family of people who want to sing and have a great time. I have the pleasure of spending time with some of the most outstanding people. "
— Anika Krishnan
"We've all been working hard to nail these pieces, and it's so exciting to see it all come together," sophomore and choir member Olivia Chang said.
In a surprising twist of events as the concert's end, the storyline took a more serious turn as the Red Queen confessed the real reason for her antagonism: insecurity. With support from Alice and the Mad Hatter, the Queen realized that she was late to loving herself, but had finally arrived — unlike the perpetually tardy White Rabbit, who was still late to her appointment.
Finally, the White Rabbit revealed what she was really late to: the "Hoedown Throwdown."
"It's a party with friends, and singing," Maldonado said, dressed in her pure white rabbit costume.
Seven singers — dressed as cowgirls — danced and sang to the Hannah Montana song.
Sophomore and choir member Amulya Maddali was among the dancers.
"It was a great feeling to be up there with my friends singing such a high energy song," Maddali said. "We all put so much work into it, and it was very satisfying to see it all come together."
Afterward, choir director Heidi Cissell congratulated the first-year choir students.
"It's the first time they've sung, and I'm so proud of them," Cissell said.
Cissell also thanked photographer Dave Khorsandi, who has been involved with the choir program for four years and worked at the Nov. 6 Disney concert as well.
"He will be there for all other events this year," Cissell said. "He's been capturing the children so beautifully."
At the end of the event, all choir members — some dressed in standard choir attire, others in bright, eccentric costumes — sang a medley from "Enchanted" to conclude the event.
"Choir is one big happy family of people who want to sing and have a great time," Krishnan said. "I have the pleasure of spending time with some of the most outstanding people."