Senior creates design to celebrate ethnic diversity
September 29, 2017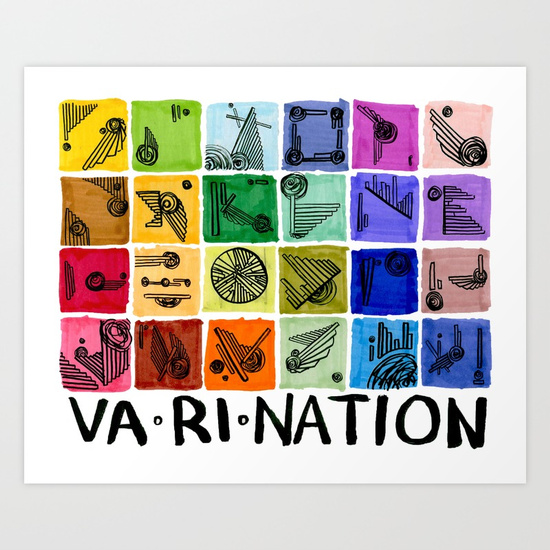 Senior Ellie Reisman is at the intersection of two seemingly separate domains: art and politics.
Inspired by recent political events, particularly the protests in Charlottesville, Virginia, Reisman created a design portraying ethnic diversity in the United States. The original design was created about two weeks before the protests.
"By the time I was finished [a couple days before the protests], I designated the piece as a representation of the cultural and racial diversity in the U.S.," Reisman wrote to the Talon. "I then named the piece 'VARINATION,' like variation, but representative of the variation within the nation."
Reisman was encouraged by computer animation teacher Tony Peluce to make her design public. She began distributing products on the art website 'teespring' on Aug. 18, donating 25 percent of the proceeds to the National Association for the Advancement of Colored People. A week later, however, Reisman switched to a different website, 'society6,' which does not donate profits. The design is currently available there, along with the rest of Reisman's work.
"I use my art mainly to make statements about cultural companionship and the ridiculousness of prejudice and racism within society," Reisman wrote.
Reisman has been creating art and making sociopolitical statements through art ever since she can remember, seldom sticking to a single medium. Her portfolio ranges from watercolor to ebony pencil to the occasional sculpture.
According to Reisman, like most artists, she is no stranger to creative block. The trick she recommends to getting past it: doodling.
"
I use my art mainly to make statements about cultural companionship and the ridiculousness of prejudice and racism within society."
— Ellie Reisman
"I usually just pull up a sketchbook and a huge bin of markers and go nuts," Reisman wrote. "That's how I made all the doodle pages you see on my [online] store."
Reisman draws inspiration both from other artists and literature — her preferred genre being science fiction.
"I have four major artists I pull inspiration from: Andy Warhol, Banksy, Jamie Hewlett and Atsushi Ohkubo," Reisman wrote. "Ender's Game and Hitchhiker's Guide to the Galaxy are both huge influences on my work and personal philosophy. I also really like Do Androids Dream of Electric Sheep."
Besides school, reading and creating art, Reisman's time is typically taken up by Academic Decathlon and Tae Kwon Do.
Reisman learned Photoshop this summer after taking a Design and Media Arts class at the University of California, Los Angeles. She used this to convince Peluce to allow her to jump directly to AP Computer Graphics this year, forgoing the prerequisite CP Computer Graphics I/II.

Reisman intends to study graphic design in college, citing her 'dream school' to be one near Los Angeles. After college, she plans to field in freelance design and work for a company. One thing that will remain constant, however, is her use of art raise awareness of social issues.
"They say the pen is mightier than the sword, but the pen is just one art tool," Reisman wrote. "Imagine what is possible with a full set of supplies and an open-minded audience."