Performing arts on display at district-wide events
First annual musical festival features bands, choirs at Medea Creek Middle School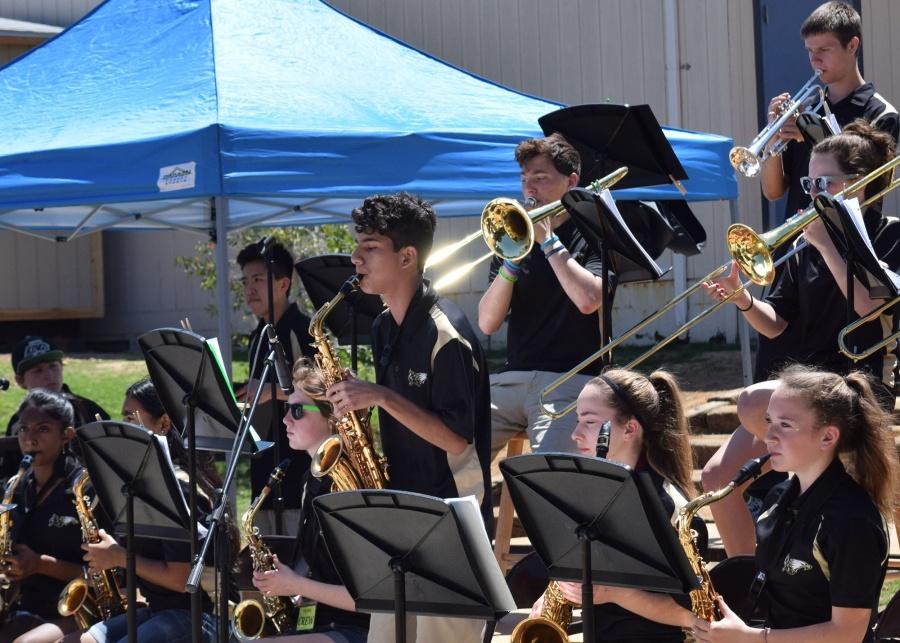 The first annual Oak Park music festival was held at Medea Creek Middle School April 17.
The purpose of the event was  to encourage students, entering middle or high school, to join a music program.
"We wanted to inspire others to get more involved with music, like taking classes," junior and band member Ivy Bi said. "It was important that we showed the audience how much music can influence us."
All of the musical groups dedicated many practice hours for the show. The vocal ensemble and chamber choir were some of the groups that performed at the event.
"Whenever we get close to a performance we always put most of our class time into it and prepare for it," sophomore and choir member Megan Shoaf said.
According to sophomore and band member Sagarika Alavilli, two concert bands and two jazz bands from the high school performed as well.
"We met every time wind ensemble practiced," sophomore and band member Ava Farriday said. "We practiced probably five times a week to get the show ready."
Prior to the event, band and choir members expressed their hopes for how the festival would go.
"I would love a loud cheer from the audience 'cause it would just represent all the time and effort we put into it," sophomore and choir member Ryan Speert said. "It would be cool if they would get up and dance around. We sure are going to do that."
Performers said they wanted to make the event exciting and energetic for the audience.
"I want them to feel happy during this performance — making sure the performance is worth paying for," senior and band member Dennis Chiu said.
Many performers said they didn't know what to expect.
"I don't know if I'm really excited about anything in particular. I just want the audience to be happy," Shoaf said. "I mean that's what music is for — to let people feel how they want to feel."
The day of the performance, audience members took their seats in the amphitheater and waited for the show to begin. Band members were quick to ready the stage.
"We put in a lot of effort getting this whole performance set up," Farriday said.
During the performances, audience members sang along as the band and choir performed familiar songs such as "Uptown Funk" and "Mama Mia Medley," respectively.
Sophomore and choir member Amulya Maddali said she loved "the energy of the crowd."
"My goal was to get the crowd going — and we did," Maddali said. "It was a great experience."