Literary magazine compiles student works
Students will be able to submit their best writing assignments, including essays, poetry and creative writing
Hang on for a minute...we're trying to find some more stories you might like.
English teacher Leslie Miller said she was inspired by "a certain kind of student."
She wanted to create a space for those students, a space to publish a composition of works so that students could have an outlet, a voice, a place.
So this year, she introduced a literary magazine program for students, by students, to publish a periodical of personal essays, narratives, poetry and art.
"[This lit mag] is for the writers, the kids who are shy and aren't in 99 activities," Miller wrote to the Talon, "the writers of fan fiction, the lovers of books, the writers of song lyrics and blogs — to give all students like this a voice."
She was driven to create the literary magazine by Principal Kevin Buchanan and a long-time friend's son
"My good friend's son was struggling … He just wasn't feeling a connection in college and he was kind of down about it, and his English professor published a personal essay of his in a lit mag for his school," Miller said. "For him, that turned around his entire college experience."
The literary magazine will be edited and published at the end of each school year. Senior Katherine Breeher said she hopes to have her work published in the magazine.
"I love to write and I like to challenge myself," Breeher wrote in an email. "So I figured I might as well get my work published so that other people can read it."
This year's editorial staff comprises print editor-in-chief Emily Burnison, digital editor-in-chief Anabelle Harvey, art editor Nick Dilley, editor Sasha Grishchenko, editor Zachary Tescher and staff writer Stephen Burt.
"
It's a chance for students who haven't found their voice yet, who don't have a voice or haven't expressed themselves yet,"
— Leslie Miller
"We all wanted to create something where students could have a way to say what they want to say and be creative," Burnison said. "This is kind of a way where they can express their creativity and say what they want to say."
Miller said she is confident in her editorial staff.
"I am very excited about the founding staff of the literary magazine," Miller wrote in an email. "I selected students that I know to be outstanding English students with solid work ethics."
Miller said she is optimistic for the magazine's success. If all goes accordingly, she intends for the program to become a club in the 2017-2018 school year.
For now, students interested in publishing with the literary magazine can share their work from Google Drive with [email protected] until the end of first semester.
"It's a chance for students who haven't found their voice yet, who don't have a voice or haven't expressed themselves yet," Miller wrote. "It's for them. It's another outlet that doesn't presently exist, and it will open things up for someone out there — just like my friend's son."
About the Writer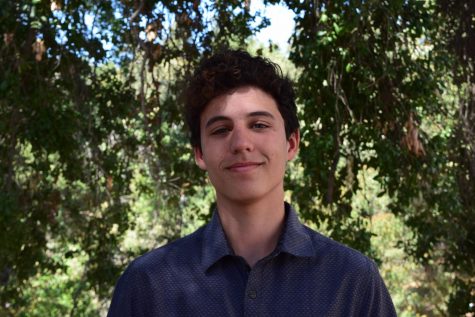 Felipe Andrade, Co Layout Director
Felipe Andrade is a junior at Oak Park High School. He is currently the 2018-19 Co Layout Director and served as the Layout Director for the 2017-18 school...