Vice dance inspires creativity
Who and how? These two questions first come to mind when the date of a school dance approaches.
With the vice dance at Oak Park High School after it was scrapped for the 2013-2014 school year due to a lack of attendance, female students have felt the pressure to ask male students to the dance, sparking creativity and originality in proposals in the hopes of attaining a date to the February dance.
Vice gives female students the formal opportunity to ask others to a dance, a task which, in other cases such as prom or homecoming, is traditionally carried out by a male. Vice has been modeled after the original Sadie Hawkins dance, which was inspired by a comic strip that empowered women to ask men out to events rather than waiting for someone to ask them.
Although vice has not had a high attendance rate in the past, the amount of proposals, especially in the senior class, increases as the date of the dance approaches.
Senior Lily Rudnick asked her date, senior Sam Sklar, to vice by creating a theme to her proposal.
"We had seen two of the three Taken movies together, and we enjoy watching them," Rudnick said. She thought it was fitting, then, to make her proposal similar to the plot of the movies.
She left him a note on his car with a and waited at his house in his garage. When he pulled in, she surprised him with a sign that said, "I hope you're not already taken because if you don't go to vice with me I will find you…"
Asking someone to vice can take a large amount of time and effort, and it can often cause people to be extremely nervous or hesitant. However, this does put female students in the shoes of males so they understand what it is like on both ends of dance proposals.
"I didn't like the process, it was so nerve-wracking," Rudnick said. "I don't understand how guys do it."
Senior Keith Schneider said he enjoys having the pressure-filled process of asking someone to a dance placed on females.
"I think it is a nice change every once in a while," Schneider said. However, he said he also "enjoys asking girls to dances because it's just interesting and fun to come up with creative new ideas."
Schneider was asked to the dance by senior Kelly Dunlay. Dunlay surprised him at his house with balloons and a sign with a pun saying "There is no one bundt you I would rather go to vice with," while she appropriately held a bundt cake.
With clever posters and original proposals, female students realized how difficult the execution of asking someone to a dance actually was between getting the timing right and maintaining the element of surprise.
"Getting the planning and timing down was definitely the hardest part," said freshman Lily Paden.
Paden surprised freshman Wes Slajchert at his house with balloons, streamers and a large poster after his basketball practice.
"I think it was fun asking my date only because I knew he was going to say yes," senior Kristen Dunlay said. "But now that we are actually going I'm really looking forward to having a night to remember."
About the Writer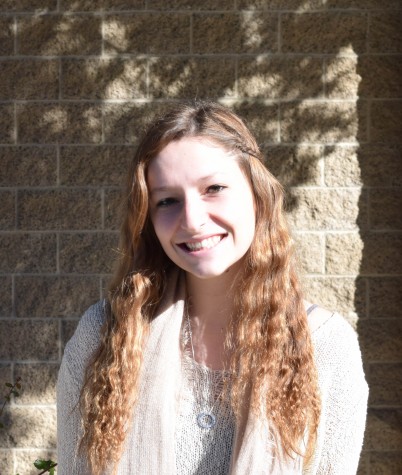 Giselle Langley, Staff Writer
Giselle Langley is a senior at Oak Park High School who desires to study public relations or business in the entertainment industry. She has played volleyball...