Friday: Chinese culture night and Super Saturday
Happy Friday, Oak Park. Here's what you need to know to wrap-up your week and begin your weekend:
Last week: Boys' basketball continues winning
The Eagles (19-6) defeated Moorpark High School (12-13) 49-46 Wednesday, Jan. 27, with sophomore phenom Riley Battin hitting a game winning three point shot at the buzzer to give Oak Park the victory. The Eagles will close out the regular season Feb. 10 against Simi Valley High School.
This week: Chinese culture night and Super Saturday
Chinese culture night is tonight Feb. 5 from 7 to 9 p.m. in the Pavilion. Students from all Chinese classes will perform skits, dances and songs. Some teachers will also perform.
Super Saturday is tomorrow Feb. 6 from 10 a.m. to 2 p.m. on the great lawn. There will be a paper and electronics drive from 9 a.m. to 2 p.m. The sustainability fair will include an electric car test drive booth, a solar derby, live animals and other activities for children.
Next week: Red Cross emergency kit drive
The American Red Cross club is holding an emergency kit drive to donate supplies to homeless shelters. Students and faculty can donate bandages, band-aids, batteries, flashlights and blankets to their third period classes. The class who donates the most supplies will receive donuts.
Beyond Oak Park: Trump and Sanders lead in New Hampshire
After second place finishes in Iowa, GOP candidate Donald Trump and Democratic candidate Bernie Sanders lead their respective fields in "The Granite State." Many political pundits discount Sanders' lead as merely a result of New Hampshire's proximity to his native Vermont, yet a victory in New Hampshire would likely provide Sanders with substantial momentum heading into South Carolina.
More Beyond Oak Park:
Southern California doctor sentenced in overdose deaths of three patients. Read more

from CNN.

One killed in New York City crane collapse. Read more

from ABC News.

Scientists discover Zika virus in saliva and urine. Read more

from CNN.
About the Writer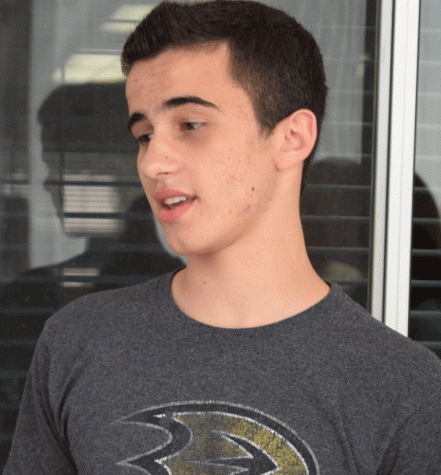 Julian Lehrer, Online Sports Editor
Julian's hobbies include playing baseball, playing street hockey with his friends, and listening to alternative rock music. Some have dubbed him a baseball...