Just be kind: Protecting students through acceptance
Awareness Week promotes tolerance amid diversity
Acknowledging intolerance 
Oak Park held its annual Awareness Week, themed "No Place for Hate," from January 17-20. Students, teachers and administrators participated in a weeklong series of events emphasizing the importance of spreading awareness and encouraging diversity.
"People need to start acknowledging the fact that it really doesn't matter who you are, no matter what you believe in, that we are all people, that we all have different thoughts and different beliefs, and that there is nothing they can do to change that," sophomore Daniel Rosen said.
"
I always have hope for the future."
— Jacob Smith
According to the United Nations Educational, Scientific and Cultural Organization, intolerance can be fought through five means: the law, proper education, information, individual awareness and local solutions.
"[Intolerance comes from] hate and prejudice. Coming in with predetermined beliefs, [and because] you already have a predetermined negative opinion … there's no chance that you'll accept [other people], or support them," sophomore Rasjot Singh said.
Amid the shared stories of conflict over issues of sexuality and diversity, students still expressed hopes for the future.
"I always have hope for the future.  We've obviously hit some bumps, but we still have to step forwards, and we still can change things," sophomore Jacob Smith said.
---
School Demographics 
Across California, disparities in racial and ethnic demographics can lead to more bullying in schools.
Oak Park High School's student body includes 72 percent Caucasian, 15 percent Asian, 8 percent Hispanic and 5 percent other students. However, the traditional California high school includes 52 to 54 percent Hispanics and 24 percent Caucasians.
Private schools, on the other hand, average about 68 percent Caucasian students, with minor populations of Asian and African-American students.
"Children are not born with intolerance or prejudice. It is a learned behavior. Education is key in creating acceptance and better understanding among people. Often, people who are not accepting were brought up in an environment that lacked diversity," counselor Janet Svoboda said.
According to a research paper written by Stan Davis and Charisse Nixon from Penn State, students are most commonly subjected to bullying on the basis of appearance, body shape and race.
"I believe the media plays a big role in this problem. Television, music, advertisements, etc. are saturated with stereotypes and highly influence people's thinking," Svoboda said.
Despite differences in opinion and ideologies, Svoboda said she believes basic tolerance is necessary in all circumstances.
"There will always be ideas we don't agree with, but it's important to maintain an open mind, be respectful and try to understand other's viewpoints," Svoboda said.  
---
OPHS staff works to prevent bullying, on and off campus
Oak Park High School's recent Awareness Week is one of many programs the school implements to reduce bullying on campus.
Awareness Week is an annual event hosted by Oak Park High School's Advanced Peer Counseling to further unify the student body. Guest speakers, such as activist Judy Shepard, whose gay son was the victim of a hate crime in the late 1990s, spoke out against bullying and discrimination.
Bullying, as defined by the California Department of Education, is "one or more acts by a pupil or group of pupils directed against another pupil that constitutes sexual harassment, hate violence, or severe or pervasive intentional harassment, threats, or intimidation that is disruptive, causes disorder, and invades the rights of others by creating an intimidating or hostile educational environment, and includes acts that are committed personally or by means of an electronic act, as defined."
"We're one of the only schools that do an awareness type thing. During Awareness Week, we get really close as a school through the assemblies and it's awesome to see everyone talking about the same thing," senior and Advanced Peer Counselor Rose Saban said.
"
During Awareness Week, we get really close as a school through the assemblies and it's awesome to see everyone talking about the same thing."
— Rose Saban
According to counselor Randy McLelland, Oak Park High School is different from other schools when it comes to bullying.
"By comparison to other schools, where people are full-on being threatened and they feel unsafe going to school, that is not the case at Oak Park High School," McLelland said.
According to McLelland, there have been five or six serious cases of bullying that had to be taken to the administration level this school year. A majority of the bullying that occurs at Oak Park happens in the form of social media posts, and the counselors rely on screenshots to stop the harassment — unless the cyber bullying includes inappropriate photos. In that case, any evidence of the bullying is turned directly over to law enforcement, without review by site administrators, Principal Kevin Buchanan said.
These policies parallel those at nearby Agoura High School.
"Most of [the bullying] we hear about is on social media and we address each issue as it occurs. We have a zero-tolerance policy, and consequences range from mediation to suspension and law enforcement involvement when necessary," Agoura High School Assistant Principal Marty McGrady wrote in an email.
According to a student who has been bullied at Oak Park High School in the past, who wished to remain anonymous, the presence of social media plays a large role in bullying.
"I've been messaged over social media by both strangers and my peers saying, 'You're fat; you're ugly; you don't deserve to live,'" Student A said. "It's scary knowing that someone only has the courage to say that behind a mask."
With the majority of students on the Internet, the emergence of cyber bullying has led to policy reviews across the district and state, according to Principal Kevin Buchanan.
"The board has developed a social media policy with regards to bullying. The California Education Code has modified their code to include electronic means, so it's been acknowledged that bullying can happen online," Buchanan said.
Another anonymous student, who was bullied at Oak Park High School, claims that it can be hard to feel comfortable going to a counselor.
"[The bully] always tells me how I'm wrong, how I'm stupid, and how I'm fat. The teacher blamed it on me because he made it sound like he was the victim," Student B said. "I haven't gone to the office because I don't want to be labeled a snitch."
Getting students to speak up is crucial in order to end their harassment, according to Buchanan. Because not all reports of bullying come from the victims, anonymity can be preserved.
"This is not something that [students] need to handle. When we take over, it will stop. We guarantee it will stop because the perpetrators and their parents will understand that should it not stop, they will feel the consequences," Buchanan said.
Because bullying removes a student's ability to learn in a safe environment, Buchanan said, Oak Park High School's administration has little patience for it.
"If you happen to be in our office because you bullied someone, you're going to know that you either need to stop or the consequences are going to increase up to, and including, expulsion," Buchanan said.
"
It's scary knowing that someone only has the courage to say that behind a mask."
— Student A
Oak Park High School operates on the zero-tolerance policy to reduce bullying on campus. A first time occurrence is handled at the counseling level, with a warning and a discussion with a parent. If the bullying continues after the warning, then the administration becomes involved, and the student is suspended, possibly pending expulsion.
"A suspension goes on your permanent record, and potentially has to be disclosed to colleges when you're applying, so often times that is enough of a motivator to not do it a second time," McLelland said.
Buchanan credits the Peer Counseling and Safe School Ambassadors programs as one reason why there haven't been any incidents on campus that have gotten out of control.
"Peer counselors and safe school ambassadors are in every corner of the school — they're athletes, they're artists, they're in all of our classes, they're in all of our clubs. There are over 100 of them," Buchanan said. "No one can really get away with it for too long before it gets to a safe school ambassador or peer counselor, and they bring it to us."
Advanced Peer Counselors and SSA members are trained to detect bullying around campus, and handle it accordingly.
"There're 31 [Advanced Peer Counselors] and if we see something happening, then we go to the counselors to make the problem aware," Saban said.
Additionally, the school's website provides informational, student-produced videos that outline how students should respond to a cyber bullying incident. McLelland said he particularly recommends two specific videos to students — "The Domino Effect" and "Cyberbullying on Facebook."
According to Buchanan, a majority of the bullying at OPHS occurs as incoming freshmen adapt to high school life.
"The kids who come up here in ninth grade – they've been doing some silly things in middle school, and they get to high school and realize, 'oh, they don't do that here,'" Buchanan said. "We can't just fix bullying because a new batch of kids come in every year."
About the Writers
Michelle Deyski, Former News Editor
Michelle served as the news editor for the 2018-19 school year. She graduated from Oak Park High School in May 2018. She will be attending Cal Poly SLO.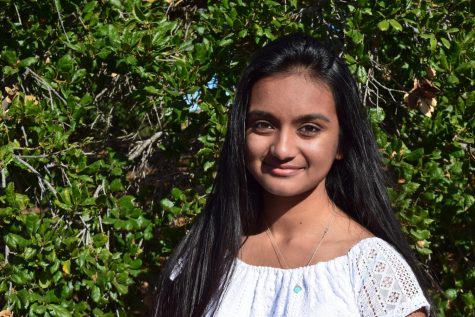 Medha Vallurupalli, Former editor-in-chief
Medha Vallurupalli served as print and online editor-in-chief during the 2017-18 school year; online editor-in-chief and news editor during the 2016-17...