Emphasis on CAASPP scores leads to changes
School shifts CAASPP incentives for students
From increased incentives to teacher proctors, Oak Park's administration of this year's California Assessments of Student Performance and Progress tests will feature changes to the testing system and environment — due to the creation of California's new State Accountability System, which will include results from the test.
The new accountability system has replaced the old Academic Performance Index for the 2016-17 school year.
"This new indicator of school quality is a critical measure for California public schools, as it is one of the most important factors families consider when researching communities and school quality," Principal Kevin Buchanan wrote in a letter to parents of juniors regarding the changes. "Colleges and universities [also] use it to determine academic rigor in the local context when evaluating admission decisions."
The changes were also a response to unexpectedly poor performance by Oak Park students demonstrated through the previous two years of CAASPP results.
"We looked at some of the data and we noticed that some kids who were scoring below standard [on CAASPP] were AP students who were scoring 4's and 5's on their AP tests," Assistant Principal Bryan Martin said. "We can safely attribute a lot of [this] poor performance to students just not trying hard enough."
Senior Ivy Bi, who took the test last year as a junior, said she agreed with Martin on students' attitudes toward the test.
"I don't think many people took it seriously," Bi said. "To be honest, I didn't hear about the test until a week before, when my friends were talking about it."
"
We can safely attribute a lot of [this] poor performance to students just not trying hard enough."
— Bryan Martin
Martin also cited students' familiarity with questions — or rather, the lack thereof — as another reason for unsatisfactory performance.
"Some students become very discouraged when they see problems they don't know," Martin said. "But what they don't get is that this is probably a good thing. The test is very adaptive, so if you start seeing calculus, that means you're doing really well."
Buchanan echoed this sentiment in his letter, writing that "the format of the assessments is new and unfamiliar in terms of what is asked of the students and how it is asked."
"We have increased the use of technology in the classrooms to familiarize our students with these kinds of assessments, but we realize that it will take a bit of time for our students to generate the kinds of results that are a hallmark of our high-achieving school," Buchanan wrote.
The tests will be administered to all Oak Park High School juniors Monday, April 17 to Thursday, April 20.
In hopes of improving this year's student performance on CAASPP, administration will separate the juniors into approximately 40 students per classroom for the test. This is a departure from the larger, more crowded testing environment in the gym, which was the case for previous years.
Administrators have also asked teachers on campus to serve as the proctors in lieu of outside proctors from previous years, citing the likelihood that unfamiliar faces may have affected scores.
"In the past, a lot of the proctors weren't teachers [students] knew," Martin said. "We suspect that, because of this, students took the test less seriously."
In addition to the aforementioned changes, testing will be extended to four days instead of two. English sections will be administered April 17 and 19, with math sections administered April 18 and 20.
"When we were administering the test [in the gym] for two straight days, we just had a lot of kids all in the same place, and it created a very loose testing environment," Martin said. "It encouraged a lot of kids who just wanted to leave to go through the test as fast as possible and not really try their best."
In addition to changing the environment and format of the test, administration will provide new incentives for juniors to perform at higher standards.
"[Buchanan] went to all the junior English classes and talked about [these] incentives," Martin said. "If anyone wants to enter an upper-level class next year, for example, they have to perform at a level that will prove their readiness to take that class through CAASPP."
In other words, satisfactory performance will be made a requirement for a student who wishes to enroll in certain senior classes. This requirement will apply to AP classes in particular, according to Martin.
For juniors currently enrolled in the Honors or AP English III course taught by English teacher Kathleen Schultheis, doing well on CAASPP has become a new prerequisite for "grade bumps" in the class.
"[Schultheis] already offers a grade bump if a student passes the AP test in May, so we asked her to make satisfactory performance on the CAASPP another requirement," Martin said. "We figured that if you're already scoring well on a college-level English exam, you should be able to do well on CAASPP, too."
Though incentives will be limited to grade bumps and senior course prerequisites this year, administration is looking into adding more in the future.
"We're considering parking incentives, for example," Martin said. "But that can't happen anytime this year, because we've got the solar panel project and a lot of other crazy parking stuff already going on."
"
Many of us didn't feel motivated to study or try hard [on CAASPP] because we knew our grades wouldn't reflect our results. There wasn't a huge incentive to do well."
— Ivy Bi
However, Martin is still cautious on what additional incentives may imply.
"Some people are naturally better test takers than others, so we don't want this misconception of, 'Oh, only the 4.0 kids get this bonus!' or whatever," Martin said. "That's why incentives need to be crafted really carefully."
Martin also expressed concerns that some changes may exacerbate student stress.
"We contemplated putting CAASPP on the transcript this year, but we don't want to punish students and have them stress out even more," Martin said.
However, Bi believes that including CAASPP on student transcripts would be effective as an additional incentive.
"Many of us didn't feel motivated to study or try hard [on CAASPP] because we knew our grades wouldn't reflect our results," Bi said. "There wasn't a huge incentive to do well."
Administration's revamp of CAASPP is ultimately designed to help students succeed on the test.

"What we did this year was an effort to create an environment that was more conducive to students being successful and wanting to do well on the test," Martin said. "All we want is for students to do their best and try their hardest."
About the Writer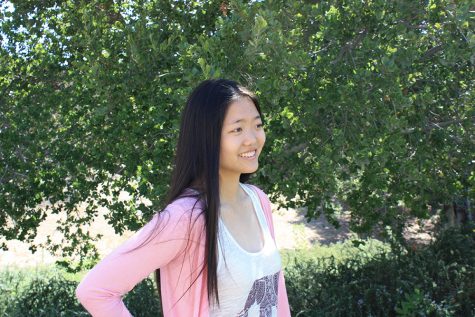 Michelle Chen, Former Opinion Editor
Michelle Chen served as the opinion editor for the 2016-17 school year; she served as the online editor from August to October of the 2017-18 school year.