Regeneron Award
Carol Sun recieves Regeneron Scholar Award.
Senior Carol Sun was recently awarded a Scholar Award in the Regeneron Science Talent Search.  1,818 students from around the country entered the competition; Sun is among 300 awarded semi-finalists.
Sponsored by Regeneron, a pharmaceutical and biotechnology company, the Science Talent Search Award distributed awards to students who applied and completed a research project.
"I applied in November. I found out [that] I was in the top 300 on Tuesday, Jan. 9. I'm really happy. I've spent two years on this project, and I'm glad to see that my hard work has paid off and has been validated," Sun wrote to the Talon.
Sun completed her project on computational biology at the University of California, Los Angeles.
"I did my project on a blood-based cancer diagnosis during the summer of 2015 and 2016, [along with] the school year [of] sophomore and junior year," Sun wrote.
The competition had various requirements to determine the semi-finalists.
"In order to enter, you have to have done some kind of independent research project, either in class or outside of class. I think the project is the main factor in the judging," Sun wrote. "They also factor in letter of recommendations, essays, grades, extracurricular activities and test scores. It's kind of similar to another college application."
Sun was aided by physics and engineering teacher Ken Jones throughout her project.
"Carol Sun has done a lot of stuff in the medical research field. She [had] a strong resume to send in support of that application. The next I knew, she got selected in the top 300, which is brilliant," Jones said.
According to Jones, Regeneron distributes the Scholar Award to broadcast extraordinary scientific intellectuals.
"It's to search out students who are all around science people who are interested and have done research. It's quite prestigious and very heavily sponsored," Jones said.
As one of the semi-finalists, Sun and Oak Park High School were awarded a cash prize.
We are given $2,000 for ourselves and $2,000 for the school, Sun wrote.
Both Jones and Sun said that they hope the awarded money will be implemented into STEM and STEAM programs at the school.
"There is so much emphasis these days on careers and education in the area of STEM. STEM and STEAM are buzz phrases at the moment. We would make a very strong case for it to be spent on STEM in some way, shape, or form," Jones said.
Jones also hopes to use some of the prize money to increase awareness of the Regeneron competition.
"This is tongue in cheek, but I've already spoken to Mr. Buchanan and [asked] him how he wants me to spend my share of the money. I think it would be good to encourage more of our gifted students to apply for it in the future," Jones said.
Sun recalls the day she was informed that she was awarded.
"When I went into [Jones'] class that day, he already knew, hugged me, and congratulated me. It's been a great honor to be recognized as one of the top 300 in the country," Sun wrote.
Jones also detailed his excitement for Sun.
"I was delighted. When I first heard and got the email, I told her I [was] proud of [her]. She did a great job, and she deserves it," Jones said. "I can't think of a more deserving candidate."
About the Contributor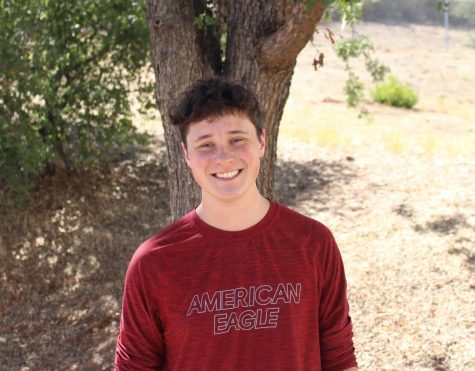 Sam Barney-Gibbs, Ombudsman
Sam Barney-Gibbs joined the Talon in the 2016-2017 school year, and served as the Ombudsman for the 2018-2019 and 2019-2020 school year.