Profile: Ray Zhang
Hang on for a minute...we're trying to find some more stories you might like.
By age 17, senior and clarinet-player Ray Zhang played as second chair in the National Association for Music Education All National band, as well as first chair three times in the Ventura County Honor Band.
Zhang's passion for classical music began at the age of five, when he was inspired to learn how to play the piano.
"I started playing piano when I was five because my parents saw that I loved classical music. We would have classical music playing in the house all the time, and soon I could sing along with most of the pieces," Zhang said. "Sixth grade rolls around and I enrolled in band, and I chose the clarinet for band –– it was because my piano teacher at the time also taught clarinet and saxophone –– and the harmonious, warm sound of the clarinet really suited me more than the bright, exuberant sound of the saxophone."
Once he became comfortable with the clarinet, he soon learned to enjoy it more than the piano.
"I liked the clarinet so much that I eventually quit the piano to focus on the clarinet, since I felt it gave me a better way to voice my feelings and convey my emotions through music," Zhang said. "What's unique about playing a wind instrument is that you are not just playing an instrument by moving your fingers –– you become a singer as well since you are bound to the instrument volumetrically."
His hobby of playing the clarinet quickly became a passion, and he auditioned for several advanced bands.
"In seventh grade I auditioned for the Ventura County Honor Band for my first time and got in. I've auditioned for VCHB [annually] ever since, and got first chair three times. I auditioned into the California Band Directors Association All State Honor Band for my first time in eighth grade and would audition into it [annually] ever since," Zhang said. "I [also] auditioned into the NAfME All National once in tenth grade and was placed second chair by the band managers."
Zhang said that he appreciates his rankings, and believes it shows all of his hard work and practice. Yet in all his successes, Zhang only sees his victories as victories for Oak Park as a school.
"The rankings are definitely nice to hear, especially when you find out you're first. The rankings show how dedicated you are to strive for perfection. I'm happy I can represent the school in these honor bands, since I am surprisingly the first person in our school district to get in all state and national honor band," Zhang said. "[However, I'm] really happy to see two middle schoolers [from Medea Creek Middle School] get into all-state this year for the first time since when I was in middle school."
In addition to his musical talents, Zhang is also a skilled chess player.
"I started playing when I was six, and my dad was my first chess coach. We would spend weekends learning chess and then playing each other. I [also] played chess with people online a lot of times," Zhang said.
By age seven, Zhang began entering chess competitions.
"I did compete in a few tournaments. [I once got] fourth place in the Beverly Hills Scholastic Chess Tournament when I was seven or eight. I [also] became the first sixth grader to win the Medea Creek Chess Tournament. I also won it in eighth grade, so that was also memorable."
Zhang also has multiple hidden talents.
"Although I only play basketball for fun and have never played on a team, I'm a pretty good shooter. Also, I might have perfect pitch because I can identify whatever note someone is playing," Zhang said.
Zhang said that he believes he would not be where he is if not for the support of the people around him.
"All my achievements wouldn't have happened if it weren't for the support of my fellow band members, Mr. Borquez and Mrs. Cissel our music directors, and my extremely supportive parents," Zhang said.

About the Writer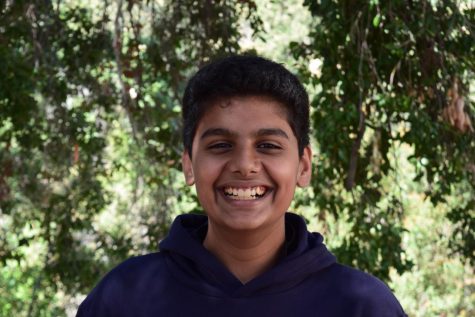 Jay Dugar, Public Relations and Online Advertising Manager
Jay Dugar is a sophomore at Oak Park High School. He is currently the 2018-19 Public Relations and Online Advertising Manager.