Cook Offers Help For AP World History Exam
Economics teacher DJ Cook is offering to tutor World History students who would like to take
the AP European History exam or the AP World History exam.
"We used to have a AP European History class, which went away. It's not going to be an
instructional course, but I will offer for anyone who wants to still take the AP Euro exam or AP
World exam to come see me during seventh period, so we can bridge the gap of what [students]
might have missed in the World History class and break down the strategies for the test," Cook
said.
Cook will tutor students in what they missed because of time crunches and restrictions.
"In World History, we talk about some of the 1400's and on, but Chinese and Indian history is a
lot older than European history. We talk about the Chinese dynasties and India a little bit, but
mostly with what happened to them after imperialism with the British," Cook said.
In order to take the AP exams, there is much work that the students would have to put into
augmenting their current knowledge.
"What we have at the high school is probably 65 percent of what the AP Euro exam is, and about
50 percent of what the AP World exam is. The AP exams would be [about] empires at the same
time in history, how they interact with each other, how that led to conflict and economic
concepts, and the economic structure we see today," Cook said.
The idea for the AP tutoring developed when Cook tutored certain groups of students who
needed extra help, and approached him about it.
"It started off with Academic Decathlon and tutoring sophomores and juniors in Economics, so
they get ready for the AcaDeca tournament. Then the FBLA club got involved, and started to get
Econ tutorials," Cook said.
Cook said that he plans to help students who have a desire to understand all of World History.
"I think, if you want to get a full comprehension of the global structure of how things look today,
you have to look throughout history. I would advise anyone who's interested, to get one of those
AP books. They are all very well put together on how to attack the test," Cook said.
While Cook plans on tutoring World History students during the support period, the classes that
he teaches during the normal school day would come first.
"It's not a set-in- stone class that I'm running. What I'm trying to offer any student that is
interested in attempting the AP Euro or AP World exam, especially if they had me for World
History, is my help during seventh periods when all of my other duties have been taken care of.
The classes that I am teaching are going to have priority," Cook said.
The test would encompass much information from the World History class that students take
sophomore year.
"AP Euro is very detailed and filled with depth, [while] AP World is a little more broad, but
there is much [more] content," Cook said.
Cook plans to meet with students who are interested at the end of February, so they can get a
head start on the exams that are towards the end of the school year at a different campus.
"If anyone is seriously interested in this, I recommend that we start talking about it and meeting
in late February with one of those [AP] books. [The exams] would be sometime [between] May
1 and May 18. Most likely, it would be off site, because the school does not offer that class.
[Students] would probably have to go to Agoura, Moorpark, or somewhere where that test and
class are offered," Cook said.
Cook hopes that this program will have an impact on the students who decide to reach out to
him.
"If someone had a few extra AP credits that put them over the top, that is very satisfying to me
that students were able to do [so] with my help. If [this] is the difference between someone
getting into Brown, Columbia or Yale, I take a lot of pride in that," Cook said.
According to Cook, the extra help and tutoring that he is offering will have a positive impact on
himself as well.
"I love my job, so anytime I can help students achieve their goals, that is my ultimate
satisfaction. I [feel] fulfillment with students getting extra help and getting the tools and
resources they need," Cook said.
About the Contributor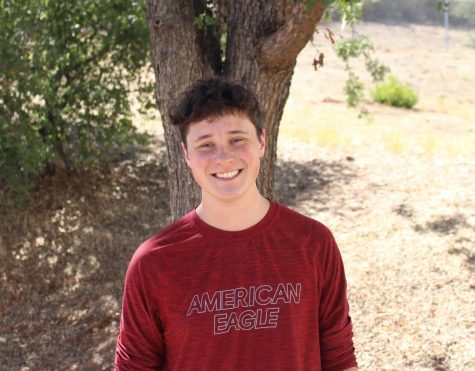 Sam Barney-Gibbs, Graduated Ombudsman
Sam Barney-Gibbs joined the Talon in the 2016-2017 school year, and served as the Ombudsman for the 2018-2019 and 2019-2020 school year.