Second Annual Women's March
Hang on for a minute...we're trying to find some more stories you might like.
The second annual Women's March in Los Angeles was held Jan. 20, 2018 with around 500,000 people in attendance. Donned in pink hats and carrying signs, these men and women gathered at Pershing Square in Downtown Los Angeles and marched to Grand Park and City Hall.
People gathered to support women's rights and equality as well as immigrants rights and the #MeToo movement. Women wanted to use their voice to be heard and to stand up for what they believe in.
"I felt a sense of unity being surrounded by all these women who believe in the same issues I do. It was empowering and eye opening," junior Maya Swartz wrote.
Thousands of people woke up early to march with their allies and fellow activists.
"The energy was extremely positive and welcoming," sophomore Emmon Amid wrote. "It made you feel like you were part of something great."
For many that attended, this experience gave them a platform to share their views and goals.
"We must stick together and be united in these very important issues facing our country now," Swartz wrote.
According to senior Abby King, the main goal is to have women representation in office and to realize that all women are equally important, as well as continue to voice their minds and fight for this cause.
"I want to show that I feel strongly about issues such as abortion and sexual harassment and march in solidarity with others who feel the same, if enough women show that they are unhappy and speak out and cause a disturbance, people will realize it is time for change," King wrote.
People marching in different places around the country were all united under one cause. This march helped raise awareness to vote and helped unite people, according to Assistant Principal Bryan Martin who attended the march.
"My family and I want to support women of all backgrounds and acknowledge the struggle for equality," Martin wrote.
Although marching is important to these men and women, according to Amid, their real hope is to go further and do more for women's rights.
"It's not enough to just show up and expect change, a lot more people need to stand up and rise up against the injustices that are taking place," Amid wrote.
These men and women wanted to speak out, but also felt inspired and empowered.
"The Women's March around the country is meant to empower all types of women and to help everyone unite as one and stand up for what they believe in," freshman Charlotte Robertson said. " I always like to stand up for what I believe is right and it's really empowering to go to the march and see all the other different women and men that march."
The streets were full of people who were excited to fight for equality and be with other people who supported their causes, according to freshman Ava Tribe
"We were all feeding of each other's energy and we'd turn on a street and there'd be more people and there was all these speakers," Tribe said. "It was just really empowering and we left just feeling really inspired proud to be there alongside so many women and men."
People of all ages, genders, races and sexualities united to participate in the march.
"I think it is important to remember that women of all races and sexualities are equally important," King wrote.
According to junior Katie Trux, nearly everyone at the march had signs and posters with messages about the causes they were supporting.
"Everyone was really happy and positive and excited to participate in such a great event," Trux wrote. "This year's march was all about power to the polls, encouraging women to register to vote and getting more women into politics."
This second Women's March was a day for people to unite and express their opinions in a safe environment where their voices would be heard and supported.
"I want to be able to stand up for what I believe in. I want my voice to be heard. I strongly believe that equality should not be based on gender," Swartz wrote. "We must continue to work for women's rights by not keeping silent and using our voice to impact others."  

About the Writer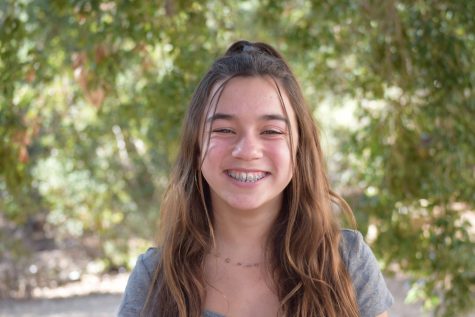 Emily Francis, News Editor
Emily Francis is a sophomore at Oak Park High School. She is currently one of the 2018-19 News Editors.