Environmental Protection at OPHS
Knight: 'The future of life on this planet is in the hands of people now'
Hang on for a minute...we're trying to find some more stories you might like.
From solar panels, recycled materials, clubs, and events like Super Saturday, Tony Knight, Oak Park Unified School District's superintendent works to promote environmental sustainability and energy efficient alternatives.
There are numerous efforts being taken by the Oak Park community and district to conserve the environment.
"The environment is the issue of our time," Knight wrote to the Talon. "The evidence is clear that human activity is having a horrific effect on the planet's ecosystems that have taken billions of years of evolution to develop."
The solar panels currently generate 85 percent of the electricity in Oak Park schools, saving approximately $159,000. Across the United States, 5,500 schools are now using solar power. Schools have been saving money while teaching kids more about technology in the process. From July to November, OPHS solar panels have avoided the creation of 600 tons of carbon dioxide. This is equivalent to removing 117 passenger vehicles from the road for a year, powering 82 homes for a year, or planting 14,130 trees.
In addition, some students may not know that cooling roofs are being used as a replacement for standard roofing at OPHS. This particular roof is white and reflects sunlight, keeping the building cooler and using less air conditioning, which conserves energy.
The district also makes an effort to use numerous recycled materials, from the classrooms students learn in to the paper they write on. Copy machines use 100 percent recycled paper, which is then recycled through the school's waste sorting program. Also, many teachers are going digital, using little to no paper in their classrooms.
"The new I-building classrooms are built from recycled sea containers saving on virgin materials," Knight wrote. "This will be the model for all new buildings in the district and these classrooms will be used to replace older portable classrooms at all of the schools."
While the district acts to protect wildlife, OPHS students act to protect domestic animals. The Students Protecting Animals in the Environment club, led by president Claire Epstein, has participated in and led many events to raise money for farm sanctuaries, in addition to advocating for animal rights.
SPAE has worked with multiple corporations like Sea Shepherd, the Beagle Freedom Project, Humane Society and the Farm Sanctuary to help educate the community on environmental protection.
"We have hosted a community dog walk to raise money for the Humane Society hurricane funds, we have participated in beach and creek clean-ups, [and] spread the word about the cruel animal testing that takes place in the cosmetics industry," Epstein wrote to the Talon.
Our cafeteria has also added more vegetarian alternatives which are available for lunch.
"I, personally, would love to see labelling and daily options in the cafeteria for people with specific diets, like gluten-free, pescetarian, vegetarian, vegan, etc." Epstein wrote.
Knight is a vegan himself.
"Eating animals means killing them and, unfortunately, the vast majority of these animals live horrible and painful lives on factory farms," Knight wrote. "I do not think supporting that by eating animals is a good moral decision when it is so easy to eat a plant-based diet and be healthier in the process."
A study published in Nature magazine found that "by 2050, a projected 80 percent increase in global greenhouse gas emissions from food production can be avoided, if the global diet is an equal-parts mixture of the Mediterranean, pescatarian and vegetarian diets."
"We would probably eliminate the issue of climate change or at least make a major dent in it along with other measures like moving to renewable energy. We would live longer and healthier lives, [as well as] save billions of dollars on healthcare," Knight wrote.
Along with combating greenhouse gases, veganism could potentially assist in ending famine across the globe.
The Global Citizen movement reported that an "estimated that 700 million tons of food that could be consumed by humans goes to livestock each year." Instead of food production aiming to feed mass populations of livestock, it could provide for people suffering from starvation and malnutrition.  
Knight believes that people determine the outcome of the environment based on their actions. When looking at the actions of the district and many students, it is clear that at OPUSD, it is more than just a philosophy.
"The future of life on this planet is in the hands of people now," Knight wrote.

About the Writers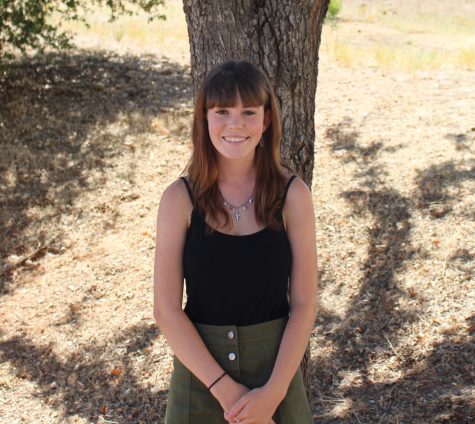 Ellie Hand, Digital Media Manager
Ellie Hand is a sophomore at Oak Park High School. She is currently the 2019-20 Digital Media Manager and served as the Digital Media Manager for the 2018-19...