Colorguard wins first trophy
Color guard earns third place in Ocean View competition
Twirling. Tossing. Telling a story.
Color guard brought home third-place at the Ocean View High School competition Saturday, April 14.
Their performance titled "Human" is about fighting against constraints that may be put on someone, both by society or themselves, and learning to find who they are in that confusion.
Senior and co-captain Yadira Martinez was excited to earn third-place at the Ocean View High School competition.
"Last season, we got last place every competition, except for the very last one when we got second to last, so everyone was like 'woo! We didn't get last!'" Martinez said. "So, going from a team who only ever placed in last and going to a team that placed in like fifth or sixth and then going into the top three feels really, really great – especially for it being my last year [at Oak Park High School.]"
Since senior and co-captain Nishka Vipul was unable to participate at the Ocean View competition with her team, due to prior Future Business Leaders of America commitments, junior Elika Parab substituted.
"I knew Elika and a couple other girls from last season who weren't doing color guard this season, so I just texted them like 'okay, do you wanna take my spot?'" Vipul said. "[My spot is] not much [work] because it's just improv because of my injury and I don't really do any equipment work."
Parab said she credits their ultimate victory to the girls that worked hard throughout the year.
"All I did was look pretty and do Nishka's work, but you could tell the amount of effort and money and time that the girls put in their performance because they just put so much passion and all their energy into what they do," Parab said.
Team dynamics and a healthy camaraderie are important aspects to color guard.
"It should never be competitive within the team. Like, you should never be like 'oh, I'm better than this girl,' or 'oh, I know that I'm better than her,'" Martinez said. "You should all strive to help each other to get better so that way the team as a collective is better and that's what I've instilled in them."
Color guard coach of two years, Hunter Browneller, acknowledged the progress made over the past years and is looking forward to the future.
"As a coach, I hope that we can progress with our size and placement in competitions," Browneller wrote. "Although I would most like to see the girls progress not just as dancers, but as people."
Martinez expressed her confidence in leaving the color guard team behind after graduation.
"Not only as a senior, but as a person who has been here since the start, just helping girls and making sure that they knew what color guard is supposed to be about is what I feel very comfortable leaving here," Martinez said. "Part of it's about placing well, but another big part of it is to be there for each other and to help each other. I can tell great things are going to happen in the next year and years to come. I'm excited for it."
About the Writer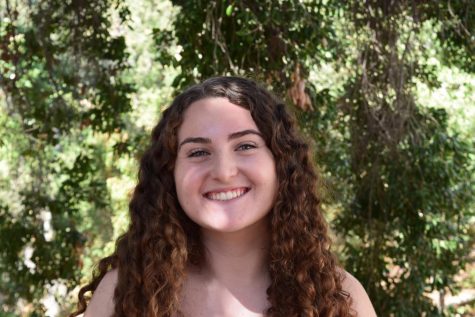 Amanda Lurey, Club Director
Amanda Lurey served as the Talon club director for the 2018-2019 school year and a news editor for the 2017-2018.