Vape Sensors update
Oak Park high school vape sensors are to be installed by the 218-2019 school year
Hang on for a minute...we're trying to find some more stories you might like.
The initial wave of vape sensors for Oak Park High School arrived in the first week of April and are to be installed by the next school year.
The sensors will be installed in bathrooms and locker rooms throughout campus in an effort to eliminate student vaping.
"[We only have] the first four to arrive for the bathrooms," Principal Kevin Buchanan said. "We are just waiting for the ethernet connection to be installed, and then we will put those in the bathrooms. We have just ordered four to start with, then once those are installed, we have a quote for 14."
Ethernet is a wired network used to connect devices to the internet; it is the final stage of set-up for the sensors.
"We got a quote to install the ethernet connections in the bathrooms and locker rooms. The first trial versions [for the sensors] have arrived –– we are going to start installing them, so they will probably be in place by next year, or maybe by the end of this year," Buchanan said.
The sensors are part of a school-wide campaign to reduce vaping on campus.
"We are trying to attack vaping in three different ways: deter, detect, educate," Buchanan said. "These vape sensors are part of the 'detect' phase, but when more people find out about them, it will also start to 'deter.' I think combined with many of the other things we're doing, it will contribute to reducing vaping on campus."
Additionally, administration will be educating students on the consequences of vaping through a new addition to the controlled substance safety policy.
"I have just revised the disciplinary policies for tobacco and nicotine use, and I'm adding this to the hand book. We've created an alternative to the suspension contract because [we] don't want to have to suspend kids, but right now we don't have a contract," Buchanan said. "We have just managed to order 50 nicotine tests, which will be coming soon, so we will have an opportunity to, if a kid is caught vaping, let them choose to submit to random testing and counseling or suspension, like we do now with marijuana and other controlled substances. We didn't have that in place for nicotine, but now we've put that same thing in place."
The sensors are designed to immediately notify specific staff when vaping is detected.
"If they vape in the bathrooms, [the sensors] don't have alarms –– they don't buzz or go off –– it's all networked. We hook them into our [ethernet connection] and we enter the cell phones of all the people we want to be alerted," Buchanan said. "It'll be connected to several staff members' and administrators' phones, so if somebody is caught vaping in the bathroom, we will receive text alerts. The kids won't even know it's gone off."

About the Writer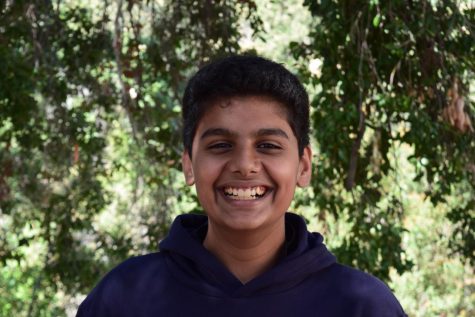 Jay Dugar, Public Relations and Online Advertising Manager
Jay Dugar is a sophomore at Oak Park High School. He is currently the 2018-19 Public Relations and Online Advertising Manager.