Man threatens violence against OPUSD
Summer programs closed for a day
Hang on for a minute...we're trying to find some more stories you might like.
(article updated 12 September 2018)
Summer programs across the Oak Park Unified School District were shut down Wednesday, July 11 due to a threat against the school that was posted on Facebook.
The threat was posted by Morton Green, a parent of a former Oak Park High School student. Green blamed his son's recent passing on his experience in the Oak Park Unified School District and high school's football program and made threatening comments on Facebook.
"[Someone] asked me what I planned to do for those responsible for my son's death? The anger I have, and my knowledge of explosives, and shooting gives me so many different options," Green wrote.
Principal Kevin Buchanan explained the rationale behind the school's response to the threat.
"We didn't know where he was. We had no idea how serious he was about the threats. He was clearly distraught over his son's death. He clearly felt that we played some part in it because of what happened in the 90s and at that point, we had no idea where he was," Buchanan said. "Until we had a notification from the police that they had looked into it, and knew where he was, we closed down the schools."
Stewart McGugan, Director of Student Support and School Safety, discussed how law enforcement was involved in the situation.
"We received a call from the FBI regarding Dr. Green's threats to our campus and our district," McGugan said. "At that time, I got in contact with the Ventura County Sheriff's office and worked with the Ventura County Sheriff's detective and the Thousand Oaks chief of police on the situation. He was in Laughlin, Nevada, and a team from the Thousand Oaks Sheriff's department in collaboration with Las Vegas Metropolitan Police Department apprehended him."
The school doesn't plan on taking any future threats lightly.
"You never know in this day and age, and that's why we take anything like this seriously. If anybody makes a threat like this, we're going to… get that info to the sheriff and then work in collaboration with them on steps on either closing down the school or getting information out to the public," McGugan said.
McGugan said he doesn't regret closing the summer programs.
"We knew school wasn't in session, but there were camps going on — the AMPM, Rancho Simi, church stuff, sports camps. We didn't want to fool around with that, but we felt that the best option with the information we had on hand was to shut down the school," McGugan said.
McGugan said the procedure would have been the same had the threat occurred during the school year.
"We would've followed our same procedures and worked with the sheriff's department, and if we felt the need to shut down the school, we would have," McGugan said.
The district obtained a restraining order for Morton Green Monday, Aug. 6. The restraining order restricts Green from coming within 1500 yards of any school in the district, making future threats towards OPUSD, or contacting those named in the restraining order. The restraining order expires in 2021.
"On Wednesday of this week, Dr. Heilbron and I attended his bail hearing and we asked for it to be increased. However, the judge decided to keep the bail set at $100,000," McGugan said. "We will update you all when we hear of or are notified of him posting bail."
Article update:
On September 11th, Stewart McGugan, Director of Student Support and School Safety, sent an email to update the parents of Oak Park students.
"We have been notified that Green posted bail last night and was released to his son, who lives in Ventura. Green is in a fragile physical condition and has severe limitations when walking. His trial is scheduled for October 5th, 2018" McGugan wrote.
About the Contributors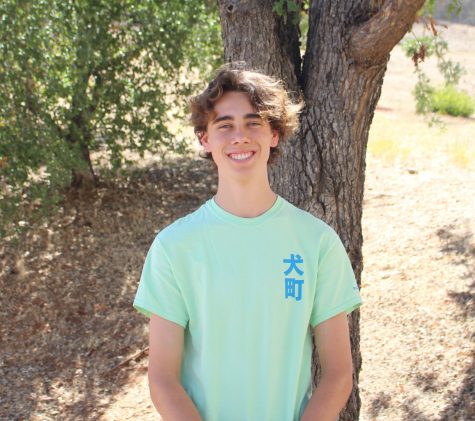 Kellen Beckett, News Editor
Kellen Beckett is a senior at Oak Park High School. He served as the art director for the 2018-19 school year and is currently one of the 2019-20 news...