Teens kick-ash at local conference
Ventura holds event to address growing nicotine usage among youth
As e-products increase in circulation among teens, most users fail to recognize the presence of a highly addictive substance that has similarly been used for recreation dating back to the ninth century: nicotine.
To educate students about the causes and effects of tobacco and drug use, the Ventura County Office of Education invited select teenagers from high schools in Ventura County to attend the Teens Kick Ash Conference Feb. 22.
Working through a federally funded grant under Tobacco-Use Prevention Education, Ventura County set out to create the Kick-Ash Conference as an effort to address growing issues regarding student vaping and nicotine usage.
"I think that we're heightening our awareness with the use of tobacco," Principal Kevin Buchanan said.
Buchanan never thought OPHS had a tobacco problem but he believes there is "a school wide nicotine problem" due to vaping.
"The vaping devices are so stealthy, easy to hide, you don't smell like an ashtray and there are no lighters. Now, it is all electronic," Buchanan said.
Ventura County health supervisor Helen Tosh is working towards reducing tobacco densities in local areas where too many facilities carry nicotine products in too close of a proximity.
"Tobacco retailers can be your local gas station, 7/11, local donut shops: coffee, donuts and cigarettes all in one," Tosh said.
Tosh said the county needs to educate local citizens on tobacco retailer density and address decision-makers in minimizing the number of retailers in a particular area.
"We try to change policies in different cities throughout Ventura county and make it more user-friendly for everyone to not be exposed to tobacco and tobacco health issues," Tosh said.
Conference coordinator Gabe Teran works with the California Friday Night Live Partnership that promotes the prevention of alcohol, tobacco or other substance abuse among youth. Teran said students need to engage with their local government to enact change in policies.
"You're the next generation. You're the next voters," Teran said. "If there are things you disagree with, it's your responsibility to change it for the people who come after you."
Ventura County was recently given a D-grade by the American Lung Association in regard to tobacco control. In 2016, Teran spoke to Ventura governance on behalf of a city-wide comprehensive smoke free ordinance. In support of the ordinance, Teran said he gathered data on decreasing numbers of cigarette-usage in youth.
"Students who would never use a cigarette are trying e-products," Teran said.
Students must take advantage of their rights and be able to hold elected officials accountable.
"Constituents are not just people who vote, they are the bosses of the people who are elected," Teran said. "These people at the top, they represent you, they work for us, they have to be responsive and accessible to us."
Specialist and keynote speaker Victor DeNoble, a retired scientist and researcher, discussed his experience with the Philip Morris tobacco company, now known as Altria, in the 1980s and 1990s. The company, based in Richmond, Virginia, produces an average of 600 million cigarettes each day.
"Humans are the only creatures on Earth that will voluntarily use tobacco. Every single [human] brain on Earth is at risk and pre-wired for drug addiction," DeNoble said. "Nobody addicts people. Drug addiction is a self-inflicted disease. We addict ourselves."
After using over 200 rats for drug testing and examining the brains of drug addicts, DeNoble and his colleague, Paul Mele, developed a synthetic form of nicotine that was less harmful than regular nicotine. However, Altria changed their mind about the necessity of this less harmful drug, firing both DeNoble and his colleague and confiscating their research.
"Nicotine goes from our blood, to our heart, to our brain, in less than seven seconds," DeNoble said. "[This drug] would go to a person's brain and keep them addicted, but it caused no heart problems."
The company silenced Mele and DeNoble through signed contracts agreed upon earlier on in their careers. However, DeNoble sent a picture of incriminating evidence to the Federal Bureau of Investigation with his fingerprints on it so the FBI could figure out DeNoble sent it. DeNoble and his colleague testified before Congress in 1994 helping to prove that the tobacco industry knew about the addictive and dangerous properties of smoking and that they hid it.
"The FBI showed up to my house and told me that they were taking me in. We were being protected by the president's secret service and the FBI, but they brought me to a judge in Washington D.C," DeNoble said.
Later, in November 1998, the Master Settlement Agreement was created. This official order recognized the limits of promoting tobacco products. DeNoble stated that the agreement simply was not enough.
"With the tobacco industry, we haven't achieved justice," DeNoble said. "The tobacco settlement made in 1998 was not justice."
The Oak Park Unified School District recently proposed a change to the disciplinary board policy Mar. 8 to put nicotine use on the same level as marijuana and other control substances when it comes to prevention.
"I hope that our students understand that there are several multinational big tobacco corporations engaged in sophisticated marketing campaigns that present vape products in ways that attract young people to use nicotine," Buchanan said.
About the Writers
Olivia Buccieri, Graduated Editor-in-Chief
Olivia Buccieri served as print editor-in-chief during the 2018-2019 school year, was the 2017-2018 features editor, and senior staff writer for her sophomore...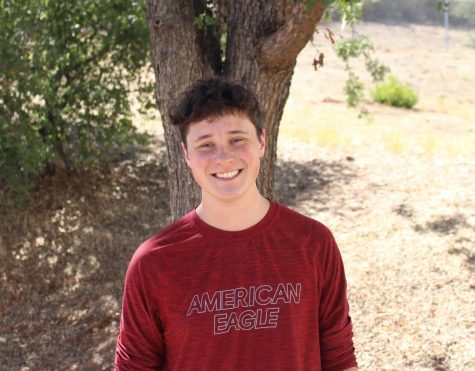 Sam Barney-Gibbs, Graduated Ombudsman
Sam Barney-Gibbs joined the Talon in the 2016-2017 school year, and served as the Ombudsman for the 2018-2019 and 2019-2020 school year.