Varsity football wins homecoming game
Eagles flying toward victory in overtime
Clad in new jerseys, a winning attitude and the annual homecoming spirit, the Oak Park High School football team headed onto the field Oct. 8 for their homecoming game against Brentwood High School.
Varsity won 41 to 38 in overtime and junior varsity lost 6 to 18.
"It was probably the greatest experience I could have had on a homecoming game," junior and varsity football player Raz Yardeny said. "Seeing the crowd get so excited and the nerves we felt going into overtime made it all the better."
According to head football coach Casey Webb, leading up to the game, the football team worked on different types of plays to get the crowd amped up.
"One thing that I always like as far as on my end for homecoming — we might add an extra trick play or two in just because it is a little more exciting, and a little more of a fun time to use that trick play to get the crowd excited and into the game," Webb said.
In addition to the plays, the varsity team also played in new gray and gold jerseys with a different design.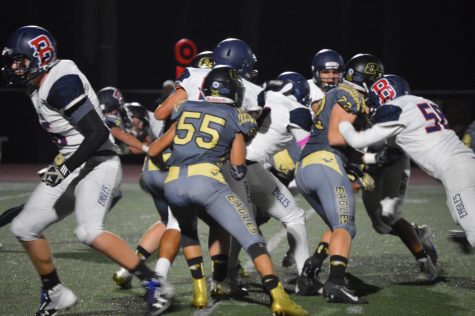 "We [have busted out] new jerseys for this home game that no one who has been to a home game has seen before, so just something a little different, a little new," Webb said.
According to varsity football players, there is a different atmosphere surrounding a homecoming game versus regular home games.
"It's just really nice to just have people cheering you on constantly and have that to push you and motivate you," Yardeny said.
The game falls on rally week, in which students dress up according to the themes of each spirits showcase day.
"The lead up gets everyone excited for the hoco game. Having the rally the same day helps with the school spirit and to get announcements out about the game and what's going on," senior and varsity cheer co-captain Raven Tikka wrote to the Talon. "Dressing up the whole week gets people excited for hoco."
Part of the homecoming game is the halftime performance, when the homecoming king and queen are announced as the marching band line the red carpet. The homecoming halftime is longer than a usual halftime in order to accommodate cheer, dance team and marching band performances.
"The only con [for the team] I would say is that it is a longer halftime, so you can lose focus, your body gets tight and sometimes you come out a little more flat in the second half," Webb said.
According to the varsity football players, winning the homecoming game is a goal that the Oak Park players want to reach. They want to win this special game in front of their friends and families. Winning the game in overtime made it more special for the hard-working players.
"The final kick by Gianni was probably the happiest I've been during football in my life," Yardeny said. "It was so great rushing the field and celebrating the win with the team."