Please, assess your priorities in times of crisis
Is it too much to help others?
The Woolsey fire wreaked havoc in our bubble, burning through a total of 96,949 acres of land over 14 days, causing thousands of people to evacuate. I was one of those people who needed to evacuate, but my story is a little bit different.
I had not one, but two houses in danger of burning, since I livManagee in both Oak Park and Malibu. My Oak Park home is alive and thriving, but my Malibu home has some damage and my family resolved to rent a house in Agoura Hills for probably five or six months.
As someone who has been hurt by these fires, both mentally and physically (due to my severe allergies and asthma), it made me think through my priorities. I pestered and asked people what I could do to help my community, but I kept getting responses to just take care of myself, my family and, of course, my dogs. That was advice I followed since I was surrounded by family and had a worsening cough from the toxic air.
All I wanted to do was help other people. And yet, some others did not quite feel the same way. I was getting texts from some friends asking if I was free to see movies or go ice skating while I was still evacuated in Woodland Hills.
While I appreciated the offer, and I love these people with all of my heart, something just sat wrong with me when thinking that some people were just going about life like nothing happened, instead of figuring out ways to help our community in this time of stress when many still felt lost.
I understand that during a crisis, certain people crave normalcy, and I am one of those people, too. While I watched "Hell's Kitchen" with my mom, per usual, Saturday night while at my grandpa's house, I still had this spark inside me to push through and do more for my fellow eagles and fellow southern Californians.
While the necessity for normalcy was understandable, being sent articles that discussed how the iconic Bachelor house burned in the fire and how people were concerned about the Kardashian's mansion in Hidden Hills was not OK. I know that we may all be worried that our beloved Colton Underwood's shot at love will be hurt by the fires since the house the Bachelor films in was burned down, but trust me when I say that the show will continue.
Not only will it continue — let's be realistic here — ratings will probably increase for the episode in which all the contestants had to evacuate. As far as the Kardashian's go, they hired private firefighters to protect their house. They're doing just fine.
Why did it seem like people cared more about the fires just because these famous locations were in jeopardy? People should care about other people. Period.
Compassion is alive and thriving. I see most of my community joining together and trying and do as much as we can, whether that means buying shirts or donating to GoFundMes, but there were still some people who weren't participating in our kumbaya spirit.
To those people, I urge you to please take action and help. This is a time for growth. As the hills around us recover their grass and flowers, we must also work on rebuilding our community and lending a hand to those in need. Friends and families lost their homes. Some lost everything. It is our responsibility as Oak Parkians to take care of our own.
There is a GoFundMe link that has been created by Oak Park Unified School District and various t-shirt links that have been created by moms of Oak Park and some by students of Oak Park. There are donation sites and directions for what each place is taking. There are innumerable ways to contribute.
I am aware that not everybody has the means to make one thousand dollar donations, and that is not what I am expecting out of anybody. But, I am a firm believer that every little action matters. I am not saying that you should go to a Goodwill to donate a single sock, but if you could find a handful of old items that you no longer wear and donate those, that would not only make my heart happy, but it will warm the receivers of your compassion as well.
I guess what I'm trying to say is that our priorities in a moment of crisis should lie with safety, aid and survival, not ice skating, celebrities and film sites. Our compassion should extend to rebuild this community, not just gratifying our normalcy needs.
While our trees of strength may not lie on our green hills anymore, as our alma mater sings, I do believe that we need to "let our love be everlasting … Onward, Eagles, fly!"
About the Writer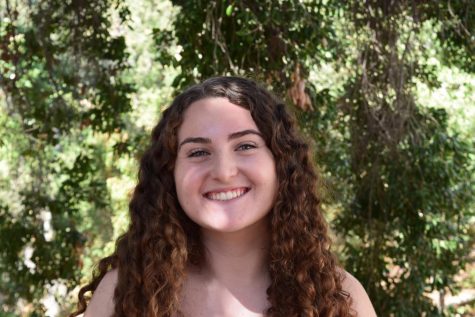 Amanda Lurey, Club Director
Amanda Lurey served as the Talon club director for the 2018-2019 school year and a news editor for the 2017-2018.