Brave hearts
In the last two weeks, parts of California were hit hard by the Camp, Hill and Woolsey fires.
Oak Park, Malibu, Agoura Hills and parts of Westlake were areas affected by the Woolsey fire. Around 250,000 people evacuated, according to CBS Los Angeles, and some did not make it out of the flames. Houses burned down. Landscapes were eradicated.
However, given the immensity of the fire — the Woolsey fire alone ended with three fatalities, 1,643 structures destroyed and the destruction of 96,949 acres, according to the incident update by the Ventura County Fire Department  — the structural damage could have been much worse. Many lives and houses were saved due to the dedicated actions of firefighters and first-responders.
In order to control an out of control fire, such as the Woolsey fire, it has to be contained.
"First thing you want to assess is the weather to see how windy it is, because the wind and the weather and the fuel moisture affect how slow or strong the fire is going to be," Firefighter Specialist Jeremy Collings said. Collings played an active role in the fight against the Woolsey and Hill fires.
The Woolsey and Hill fires were fueled by strong Santa Ana winds, extremely low air moisture and dry vegetation. According to National Geographic magazine, wind gusts were up at 70 mph in the week of Nov. 12.
"It all depends on all of the things like I said, whether it is going uphill or downhill, if the wind is strong," Collings said. "In this case, there was no stopping this fire. We were just preventing it from burning any homes."
As Los Angeles Fire Chief Daryl L. Osby said in the Ventura and Los Angeles County press briefings recorded by ABC eyewitness news, firefighting priorities are life, property and then containment.
"You get there, see what's happening, assess to see if there is any life threat because our first priority is life, then property," Collings said. "That's what we're looking at, to see if people need to be saved, or are we just saving property. Then we make a plan because our goal is to save life and property without harming ourselves."
The plan of attack differs for each brush fire. The size and terrain dictate the breadth of firefighters' actions. For example, ridges act as a barrier, while rocky terrain does not burn as violently because typically, there is not as much vegetation.
The aftermath of fires may show what burned the fastest, which is typically hills with dry vegetation. These are now hills of blackness and ash.
While racing against time, containment is still crucial for keeping the fire in a certain perimeter. If this is not accomplished in a timely matter, there will be even more danger to life and structure.
"For containment, we have to get what is called hand-crews. They are the ones with the tools, the shovels, its called Pulaskis [axes], Mcleods [saws with long handles] and chainsaws. They are cutting a containment line around the fire all the way down to the dirt," Collings said.
In the Woolsey fire, up to 63 hand-crews were involved, as reported by the incident update by the Ventura County Fire Department Nov. 10.
Typically, a hand-crew consists of 12 firefighters, totaling around 756 people acting in containment alone for the Woolsey Fire on one day.
"Once the line is around the entire fire, it is fully contained. The fire may look like it is out but it is not contained until there are lines around the entire fire. If it is 50 percent contained, that means there's a line 50 percent around the fire," Collings said.
During the southern California fires, firefighting vehicles were spread out in the affected areas and residents often were left to fear for their homes, families and possibly animals.
"It was the worst feeling because the news can't cover everything, so when we saw the hills right next to our house burning it was just a waiting game until the next day when we could see what really happened," Oak Park High School senior Sylvie Van Cott said. "I got five hours of sleep that night when we evacuated and my mom did not even get two hours of sleep."
Most firefighters that night got near to zero hours of sleep.
"It was really scary to watch the fires on the news, especially at 3 in the morning when they were reporting in Oak Park. They had live footage of houses burning down and it just made me sick to my stomach that this was happening so close to home," Oak Park High School senior Sydney Flamm said. "When the power went out it was even worse because we had no way of knowing where the winds were taking the fire so we just had to watch the smoke from outside."
Many people could not do much more than watch the news.
"I was not too concerned about the fires by my house, as I had faith in the firemen that were on our street, but rather more concerned about my friends and those who were affected in Oak Park by the smoke and flames," Oak Park High School sophomore Hayden Brown said.
The pressure to eradicate these fires was placed on the firefighters and first-responders.
"There's tons of different kinds of pressures, but in this case, we had a lot of life threat to people and then a lot of houses burning. We had to prioritize what house we could save, what house we cannot save and also keeping ourselves safe," Collings said. "Also our own family's pressures too. A lot of us live in the area and I was telling my family to evacuate over the phone while I was trying to fight this fire."
The firefighters managed to save more lives and properties than were lost.
"I want to thank all of the firefighters from the bottom of my heart for being so brave and protecting our community," Van Cott said. "They did an incredible job and we are so honored to have such brave individuals fighting for our well-being."
About the Contributors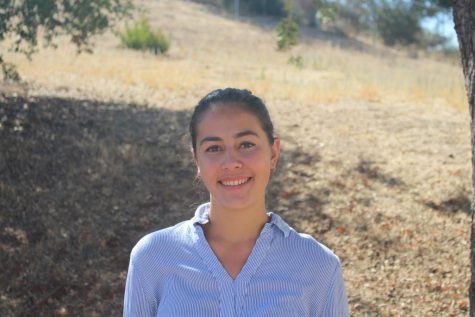 Leonie Humig, Senior Staff Writer
Leonie is a senior at Oak Park High School. She is currently a Senior Staff Writer for the 2019-20 school year.