Cambria Larks to attend Fashion Institute of Technology after years of designing her own styles
Senior Cambria Larks will attend the Fashion Institute of Technology (FIT) campus in New York City this fall. She will be studying fashion design.
Larks has known she wanted to go into fashion from a very young age, she has been "hooked ever since" she went into her elementary school library and found a book on fashion, called "Fashion Designer."
Why did you choose FIT?
I chose FIT because it's one of the best rated fashion schools in the world, and it's in New York!
How long have you known you want to go into fashion?
I've known I've wanted to get into fashion since I was 6.
What will you miss most about Oak Park?
I will miss the little things like getting lunch with my friends every day and being able to chill in the art room.
What's an interesting/funny fact about you?
When I was 13, I was on Project Runway: Threads. I was on the first episode of the season, and there were two challenges. One was a take-home challenge, where you take it home and bring it back to the show, and I won that. The other challenge was filmed on set, and one of the other contestants won that.
What's your favorite food?
I love pizza, so moving to New York is perfect.
What's your favorite ice cream?
Cookie dough
What's your biggest pet peeve?
Copy cats. I just think that when you're a creative person, your work is especially important to you, so when somebody copies it, it's really offensive.
What's your dream job?
Fashion designer. Specifically, after high school, I want to work in haute couture, which is high fashion that is custom made. I'm going to school to major in fashion design with a focus in special occasions.  I hope to get an internship at a fashion house during college and then branch off after that.
What's your favorite movie?
The Great Gatsby, just because of the glamour of it. I just love the styles of the 1920's.
If they made a movie about your life, who would play you?
Peyton List. The only reason why is once I was working at Tilly's at the Topanga Mall, and someone told me that I looked like Peyton List. I just said, I wish, and yeah.
Describe yourself in three words.
Creative, unique, determined.
How did you feel when you got into FIT?
I was mostly relieved. I had backups, but none that compared to FIT. Also, ecstatic, of course! I had completely lost my voice the day I got my acceptance, so I wanted to jump and scream but I couldn't.
About the Writer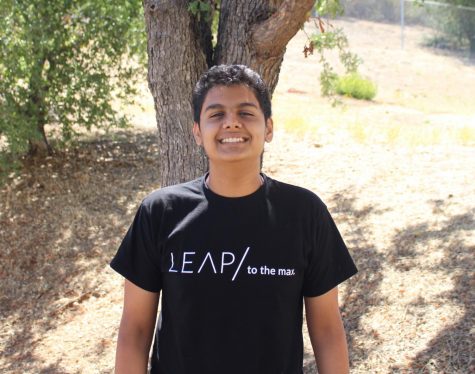 Jay Dugar, Managing Editor
Jay Dugar is a junior at Oak Park High School. He is currently the 2019-20 Managing Editor, served as 2018-20 Managing Editor and a staff writer his freshman...