Brett Solny named Mr. Eagle, again
Hang on for a minute...we're trying to find some more stories you might like.
The class of 2019 successfully won the Mr. Eagle pageant four years in a row. Senior Brett Solny, winner of Mr. Eagle 2016, won again on April 5, 2019 in the pavilion.
Senior Wesley Harris, winner of Mr. Eagle 2018, received second place and, nicknamed the Tik Tok "legend," senior Daryl Naranjo received third place.
There has been some speculation on whether or not the Mr. Eagle pageant will continue after this year. According to Principal Kevin Buchanan, "Mr. Eagle is still on the table as long as it is properly supervised and aligns with the rules and policies."
The show started with a group dance with all of the contestants to "Ride My Pony" by Ginuwine. Following this was a talent portion where each contestant showcased a different talent.
Freshman Peter Fernandes's talent was "doing random stuff." Fernandes shows the proper way to eat chips. Freshman Jack Gilbert solved Rubix Cubes and freshman Jordan Ravetch performed a lip sync to a Tik Tok song.
Next came the sophomores. Sophomore Isaac Saban made a smoothie with unconventional food choices like Oreos, mayonnaise and syrup. The judges chose what went in the smoothie, but Saban was the one who had to drink it. Mr. Eagle judge and senior Russel Myers informed Saban that there would be bonus points for not throwing up. History teacher Todd Creason followed that saying he would get double bonus points if he did throw up.
Sophomore David Shiang played "Epilogue" from the 2016 film "La La Land" on the piano. Sophomore Jonathan Sottile sketched the Oak Park eagle mascot while classical music played in the background.
Junior Jackson Apar sang "Careless Whisper" by George Michael to his fellow junior competitors Reed Harrington and Dylan Natcher.
Harrington's talent was dancing with Natcher and a beach ball. Mr. Eagle judge and senior Danielle Gould said that, as the Associated Student Body President, she "must start a competitive beach ball dance league."
Natcher punched through a picture of the "Mona Lisa" as his talent for the night.
Harris performed a "self-deprecating" stand-up comedy routine in which he made fun of his height and more.
"In fifth grade, somebody called me an oompa loompa," Harris said in his routine.
When Harris was done, Myer told him "for the love of God put your pants back on," since he was just wearing his well-known gold boxers.
"So many people made fun of it last year that I had to do it again, because why not?" Harris said.
Naranjo showed a Tik Tok he made for his talent portion.
"Archaeologists have to go back and study whatever the hell that was," Myers said to Naranjo. "Your work continues to inspire me."
Solny then sang "Tequila" by The Champs, a song that only has one word, repeated three times: "tequila."
After intermission, there were the four group dances, one for each grade. The freshmen flossed and whipped to the song "Rise" by Jonas Blue. The sophomores danced to a medley of "Old Town Road" by Lil Nas X, "7 Rings" by Ariana Grande and more. The juniors danced to "Bad Romance" by Lady Gaga. The seniors ended the group dance portion by dancing to a medley of "Fergalicious" by Fergie, "Money" by Cardi B and more.
After the fashion show portion, there was a five minute period that was the last chance for audience members to buy and use raffle tickets. These tickets were put in buckets that had the names of each contestant; it was the system of voting.
Naranjo said that being in Mr. Eagle was "pretty cool [because] a lot of people recognize me as a Tik Tok legend."
Seniors Quinn Conahan and Jordan Dem said that they were happy that Solny won.
"I'm very, very shocked. I thought Wesley and Daryl did such a great job," Solny said. "I'm so shocked. I want to thank my mom."

About the Writer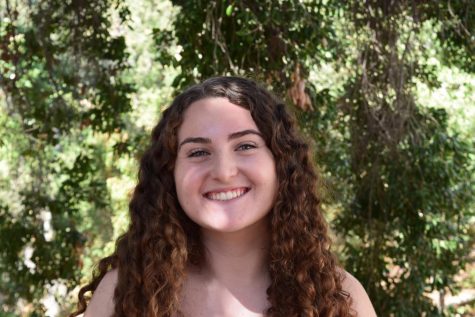 Amanda Lurey, Club Director
Amanda Lurey served as the Talon club director for the 2018-2019 school year and a news editor for the 2017-2018.