Youngest in the nation to receive Oracle certification
Oak park student paves the path for programming
With technology advancing faster than ever, the coders responsible are young and ready to take charge.
Freshman Abhiram Agina ran Coding Club and coordinated Video Game Design competitions at Medea Creek Middle School for the past two years. After thoroughly learning the coding languages Java and Python, he furthered his programming education by completing Oracle University. He became a licensed Java Programmer at 13 years old, the youngest student in the U.S. to receive such a certification.
Oracle University provides courses to those interested in pursuing higher education in a specific skill-set the chance to earn a professional certification in that area. It additionally means one can demonstrate their database and Java knowledge to future employers.
"The main reason I got the Oracle certification is proof that I know what I know — so I can make websites and all sorts of different activities. The oracle certification just confirms I have the knowledge and skills to future employers and if I ever wanted to do something on my own," Agina said.
To pass the Oracle certification exam, courses and learning subscriptions are offered, along with practice tests and prepping seminars. The duration of the exam is 150 minutes and the average time for each course is fourth months, eight to 10 weeks per exam. Agina initially attempted earning the certification in sixth grade, but successfully passed the last May after more preparation. 
"In [2017], my dad founded a startup called Sandbox Computers for Kids. That was also something that made me want to pursue [higher education] in computer science. So, this Java certification was the next step," Agina said.
According to their site, "Sandbox Computers for Kids helps children develop an interest in STEAM," a  multitude of Spring and Summer camp courses are offered, all with different realms: Realm A teaches robotics and Minecraft, Realm B: coding, Realm C Multimedia and Realm D math and physics.
With more students growing interested in technology, employment in STEM fields has increased exponentially. The Pew Research Center states, "Employment in science, technology, engineering and math (STEM) occupations has grown 79% since 1990, from 9.7 million to 17.3 million, outpacing overall U.S. job growth."
Taking the lead of programming languages commonly used by technology professionals is Java. Java is ranked #1 in the world used by over 9 million developers and running on 7 billion devices. It is the basis for powering popular web applications, some examples being Android Apps, Blu-Ray and Gmail. Java is among the most in-demand programming languages on the job market.
"Technology is our next step. We've done so much and technology can enhance that with science, medicine, engineering," Agina said. "Technology can really give us that extra boost, and I want to be a part of that and make a difference in the tech world." 
About the Writer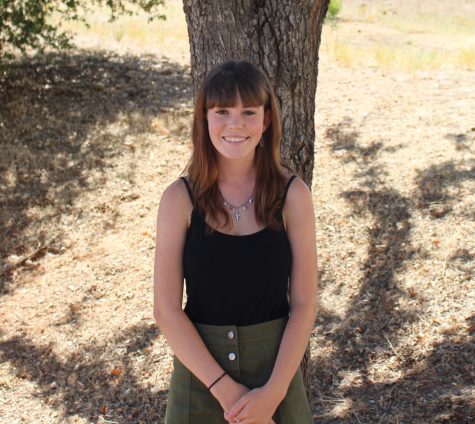 Ellie Hand, Digital Media Manager
Ellie Hand served as the Digital Media Manager for the 2018-2019 and 2019-2020 school year.