Oak Park schools close due to wildfire risks
Easy Fire, mandatory evacuations cause school shut-down
Hang on for a minute...we're trying to find some more stories you might like.
Classes were canceled Wednesday, Oct. 30 and Thursday, Oct. 31 for all Oak Park schools and for many in the surrounding area, prompted by the threat of wildfires and possible power outages. 
On Oct. 29 Superintendent Tony Knight and Director of Student Support and School Safety Stew McGugan sent out a post via ParentSquare  about the possible closure of the school. The Ventura County of Emergency Services issued an extreme red flag warning through Thursday, citing the high Santa Ana winds and low humidity as possible catalysts for wildfires. 
"We will monitor conditions and advise you via TEXT MESSAGE and EMAIL by 6:30 AM Wednesday, October 30, if a decision is made to cancel school," the post stated. 
At 6:05 a.m. on Wednesday, another ParentSquare post was uploaded stating that Oak Park Unified School District would be open.
"[At the time] it didn't look like we were in any danger," Oak Park High School Principal Kevin Buchanan said.  
However, minutes before zero period began, an email was delivered declaring that the situation had changed.
 "All Oak Park schools are closed today," the email stated. 
According to Buchanan, this change in plans occurred after out-of-district staff members and students expressed concerns about attendance due to a fast-moving brush fire in Simi Valley. Known as the Easy Fire, this blaze endangered over 7,000 homes.  
As Knight, McGugan and the principals of Oak Park schools discussed the issue, they realized that the fire would cause high absences among the staff.
"We said, 'You know what, it's not going to work. It's not going to be doable,'" Buchanan said. 
The decision inspired conversation among students.
Junior Ashlynn Salzwedel was disappointed that school shut down, but understood why the choice was made. 
"I wasn't angry about it, per se," Salzwedel said. "I get why they shut school down. But I also had a lot of stuff to do that day, so I was a little annoyed." 
OPUSD is not the only district to cancel classes. In Ventura County alone, over 20 public school districts made similar announcements on Oct. 30. On Oct. 31, 17 other public school districts reported closures. 
The Santa Ana winds contributed to the Easy Fire, which began near the 200 block of West Los Angeles Avenue. It spread to 1,723 acres and threatened locations like the Ronald Reagan Library in the process. However, the initial cause of the fire is unknown.
Mandatory evacuation orders were set in place for many residents in the region, and an evacuation shelter was organized at the Thousand Oaks Community Center. All orders were lifted as of Oct. 31, and about 30,000 people were able to return to their homes. 
In Calabasas, the Mureau Fire sparked at around 11 a.m. Wednesday, Oct. 30, briefly shutting down the 101 Freeway. The LA County Fire Department warned nearby residents to prepare for evacuations, but firefighters were able to prevent the fire from spreading beyond 10 acres.
Wednesday evening, OPHS district officials sent out another notification via ParentSquare announcing the district closure for Thursday, Oct. 31 as well. 
"Although there are no fires in the Oak Park area, many of our staff and students are evacuated from their homes in Thousand Oaks, Moorpark, and Simi Valley," the post stated. "Additionally, Hwy 23 remains closed, which makes it difficult for staff and families to reach us."  
By 11 a.m Thursday, the Easy Fire was 10 percent contained. The Ventura County Fire Department plans to have it 50 percent contained by Thursday night. 
The choice to shut down school was a difficult one, according to Buchanan. Many activities, such as the blood drive that was supposed to occur Oct. 30, had to be postponed. 
"There are lots of bits and pieces that are impacted that you don't think about when you end up canceling school," Buchanan said. "It's not a decision that's taken lightly.
About the Contributors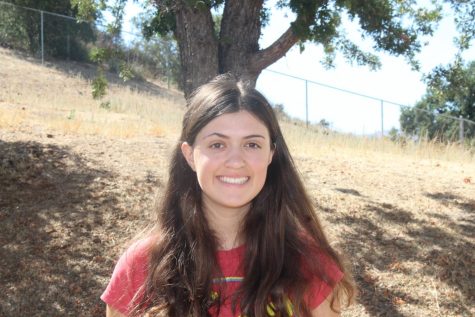 Shoshana Medved, Public Relations Manager
Shoshana Medved is a junior at Oak Park High School. She is currently the Public Relations Manager for the 2019-20 school year.