OPHS students partake in national climate strike
Student-led walkout takes place at OPHS to protest climate change
Keeping pace with Greta Thunberg's climate change activism, schools all over the world walked out of class to bring attention to the growing climate change crisis. Thunberg's activism began in August 2018, leading to the growing #FridaysforFuture movement. She soon gained international recognition and was invited to speak at the UN's Climate Action Summit, which garnered further attention.   
After hearing about this movement and discussing climate change in his AP Environmental Science class, senior Sam Barney-Gibbs organized the climate change strike at Oak Park High School on Sept. 20. 
He discussed the possibility with his APES teacher Anastasia Kokiousis, Assistant Principal Natalie Smith and Physics teacher Ken Jones and, at 11:40 p.m., students of OPHS walked out of class and stood along Kanan Road with handmade signs advocating for change and action. 
"When Sam showed interest in participating in the Fridays for Future Global Climate Strike, I encouraged him to support what he feels passionately about," Kokiousis said. "I support student activism because I believe it is important that the voice of the youth is heard. As an Environmental Science teacher, I was enthusiastic to see our Oak Park students lending their voice to a topic that is of utmost importance to their generation."
The staff and administration at OPHS worked with the students to make the walk-out a peaceful demonstration, which allowed students to make their voices heard.
"We want to empower students to speak up when they see injustice and know that they are important and vital members of our society," Smith said. "I never want to stand in the way of that. It's always about student safety as well, and that came into play, but this was done in a respectful way that brings to light the issues that not just our nation, but our world is facing."
Barney-Gibbs believes that there needs to be action taken to combat climate change and the threat of irreversible damage he believes the world faces.
"I [organized the protest] because I'm tired of inaction. I'm tired of our government not acting because things are controversial. You don't have to be an expert to know that the science points toward problems with our climate and ones that will lead to our ultimate decimation unless we do something right now — literally right now," Barney-Gibbs said.
Smith elaborated on the school's policy regarding students walking out of class, in any instance, and the repercussions of this. 
"If a student left class, no matter the circumstance, [they] can be given an unexcused absence, but other than not being able to participate in that day's activities, unexcused absences do not hold any disciplinary action until you get three in one class," Smith said. "If the entire class together decided to do this and the teacher was with them, that [would be] a class activity and would not be counted as an unexcused absence."
Students who walked out of class were aware of the possible consequences, but were willing to risk being marked as "unexcused" in hopes of changing the world for the better.
"I really hope that students are more environmentally conscious about how their decisions can impact the world they live in. I hope the school takes note of how passionate the students are about this topic and continue to push for more environmentally friendly ideas," Senior Caroline Baumann wrote to the Talon. 
Baumann was also involved in planning the walk-out and elaborated on the change she hopes this protest will effect.
"A lot of people are intimidated when it comes to making lifestyle changes because it seems impossible for one person's small action to stop a threat against the Earth. It's true, it is intimidating, however with a community supporting you … the problem doesn't seem as far out of reach," Baumann wrote. 
About the Contributors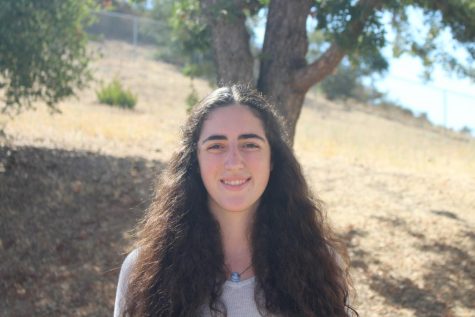 Loren Yona, Online News/Features Editor
Loren Yona is currently a senior at Oak Park High School. She was a staff writer in the 2018-2019 school year and is currently the Online News/Features...