Profile: Bryce and Preston Green
You are the dancing Greens, young and sweet, only seventeen
Twin seniors Bryce and Preston Green are the only twins in the Oak Park High School drama program. Bryce began his drama career two years ago as Jacey Squires, the tenor of the quartet in "The Music Man," while Preston only began this year. The twins were in the fall musical, "Mamma Mia!"
"I am playing Bill Austin in the fall musical 'Mamma Mia!' … a 40-year-old man who has explored the world and is one of the three possible dads," Bryce said.
Bryce's main companions on set are the other dads: Dominic Land (Sam Carmichael) and Eddie Park (Harry Bright).
"They have been there for me all the time and we were a part of the quartet back in 'The Music Man' which helped build our stage chemistry as well," Bryce wrote to the Talon.
Preston believes that Bryce was born to play Bill Austin.
"He has such good energy and his quirky personality that suited the role," Preston said. "I'm proud of him for being in the spotlight and stepping up to play a huge part, because both of us could agree we couldn't imagine ourselves doing this a few years ago."
Preston, too, took a lead role in "Mamma Mia!" as Sky Rymand, Sophie's fiance.
"Sky's got a really good heart [and] he's very nice to everyone around the island," Preston said. "You can tell that he loves Sophie and wants to spend his life with her."
Bryce was also supportive of his brother's role in the musical.
"I really loved his energy and enthusiasm while playing Sky," Bryce said. "His likable presence on stage made him one of the best characters in the cast."
The OPHS performance of "Mamma Mia!" closed it's curtains on Oct. 26, with the winter musical, "Chicago," upcoming in March.
"I hope that we can work alongside [eachother] as principal roles again," Bryce said.
About the Writer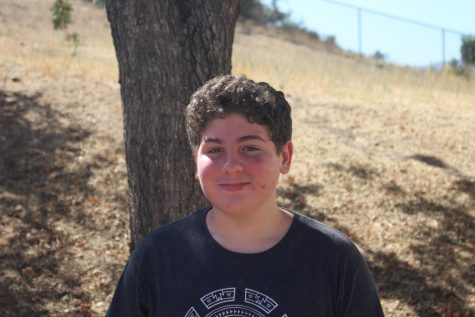 Oliver Carter, Senior Staff Writer
Oliver Carter joined the Talon in the 2018-19 school year as a staff writer and served as a Senior Staff Writer for the 2019-20 school year.