Teachers and students initiate #NoWasteWeds
OPHS works to reduce waste production
A group of Oak Park Unified School District teachers, staff and students have been meeting regularly to discuss different ways to promote environmentalism and sustainability at Oak Park High School, led by math teacher Robin Midiri. This group began brainstorming ideas to develop environmental awareness on campus. Their first initiative in progress is #NoWasteWeds.
The goal of #NoWasteWeds is to encourage everyone on campus to produce zero waste for one day a week. This recurring event was advertised through Twitter, TikTok, posters on campus and word of mouth. Posters, made by art teacher Anna Mendez's students, were another example of OPUSD meeting their sustainability goals by using old copies of the Talon. The first time this event took place was on Jan. 29.
#NoWasteWeds is a method by which OPHS teachers hope to address goal 12 from the U.N. Sustainable Development Goals: responsible consumption and production. Students and faculty are encouraged to utilize the four R's: refuse, reduce, reuse and recycle.
"We are suggesting [people use] containers and utensils that are reusable, [which will result] in our custodians having an easier job that day and keeping our class clean," Science Department Chair Winnie Litten wrote in a summarization of how she plans to address #NoWasteWeds and employ sustainable education in her classes.
Litten's students helped generate ideas for this event as well. These ideas included buying in bulk to reduce plastic from individual packaging, utilizing more technology in the classroom in place of paper and taking reusable grocery bags to the store.
English teacher Jennifer Hankins believes this recurring event will help people find alternative methods to try not just on campus, but in their daily lives.
"My hope is that more and more students and staff will participate and become more aware. Hopefully with greater awareness comes a habitual practice not just on Wednesdays, but everyday!" Hankins wrote to the Talon.
Students in English teacher Caitlin Fowler's class were encouraged to write a blog on the world's plastic crisis and sign the Planet or Plastic National Geographic pledge to reduce their plastic waste.
#NoWasteWeds seems to be moving beyond just Wednesdays.
"We [had] a staff luncheon, and we did soup. It was suggested in the email that when you come for soup, instead of using like paper goods, to bring your own little coffee mug and a spoon. So it was really cool on Friday of last week to kind of keep that theme going, and a bunch of teachers just brought these big mugs and they filled them up with soup," Midiri said.
Some students thought this event helped them reassess their sustainable practices or lack thereof.
"When you think about [waste production from] one person you think, 'Oh, I don't make that much waste.' But if you think about it in the grand scheme of our entire school, you realize just how much waste we actually make each day as a student body," junior Lindsey DiConti said. "It kind of made me reflect on how even though what I do could be so little, it still makes a difference."
About the Writer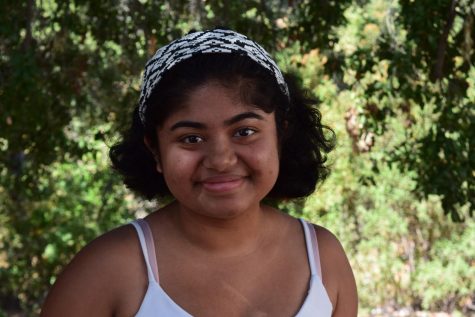 Atmika Iyer, Editor-in-Chief
Atmika Iyer is a senior at Oak Park High School. She is currently the 2019-20 Editor-In-Chief, served as the Opinion Editor for the 2018-19 school year...