Cook and Kinberg create new classes
Sustainability classes to be added for 2020-21 school year
Cook creates new class: Geopolitics in the world today 
An avid sports fan, he has Colorado Rockies and Denver Broncos gear up on his walls. A "Rick and Morty" sketch from an old student hangs by his desk, and different flag parodies with his face decorate the walls. A guitar case rests by the wall behind his desk. Social Sciences teacher DJ Cook has worked at Oak Park High School for around 10 years nonconsecutively. He has taught AP and CP Economics, World History, Life Skills, AP US History, CP Government and AP Psychology and been the ASB Director and Head Varsity Baseball Coach baseball. Recently, Cook developed a new course for seniors to take to fulfill their economics credits: Geopolitics in the World Today.
"[The inspiration to create this class] was kind of the same inspiration that got me into teaching. I recognized that I had a unique skill set, and filter for the news, information and its connection to the world," Cook said. "I thought if I could spend enough time with students that I could show them how the world operates, which will be for their benefit and for the benefit of society."
This class was board approved and will be available for the 2020-21 school year.
"I was caught off guard when I heard [the class was approved] … I was taken aback and didn't know how to make sense of it. I didn't have a reaction to it because I had to go confirm it for myself," Cook said.
The focus of this class will be on how to transition the global economy into one working with sustainable agents instead of those that are dependent on practices that promote pollution, global warming, etc. Students will receive class material from the LA Times, the Washington Post, the Economist, the Panama Papers, etc.
According to Cook, Assistant Principal Natalie Smith was instrumental in passing the class through the curriculum council. Smith outlined the Curriculum Council as a "district-wide task force with various stakeholders that reviews and recommends new classes and texts to the Board."
"Once Mr. Cook outlined his ideas for the course, including unit topics, assignments and texts, I advocated for its adoption at Curriculum Council … That was my first step. My second step to have the new course fully ready for roll-out next school year will be to submit it for "a-g" approval with the UC/CSU system," Smith said. "Once [submissions open], I will upload the outline Cook created for consideration."
Director of Bond Programs, Sustainability, Maintenance and Operations Brendan Callahan commented on how this course engenders the values Oak Park Unified School District wishes to instill in their students.
"The … CP Economics Course, [is] just [one of] the latest examples of [OPUSD's] commitment to sustainability and how introducing these concepts in the classroom aligns with our mission of educating compassionate and creative global citizens," Callahan said.
Junior Camryn Counsil sees this class as a learning opportunity for younger generations to learn how to build an economy that's both sustainable and successful.
"I would [take Geopolitics in the World Today] because it is important to educate ourselves on how we can create a thriving economy that will last for future generations," Counsil said. "Even if I can play a small part by educating myself on the topic, I would be glad to do so and I hope that others will be encouraged to do so as well."
---
Kinberg creates new class: Environmental and Sustainability Literature
A desk sits in the middle of the back wall of G-2, surrounded by photos of children smiling and drawings on the right, while framed pictures of the Oak Park High School baseball team over various years decorate the wall on the left. These different momentos depict English teacher David Kinberg's 26 years teaching here at OPHS. 
While Kinberg has taught the traditional English classes, he has also brought plenty of new English classes to campus such as Sports and Culture and Cinematic Texts. Aside from English, he has also taught World History, European History and AP Global Science. In addition, he has coached football, baseball and cross country. This year, Kinberg has created  a new English class for the 2020-21 school year called Environmental and Sustainability Literature.
"I'm always looking forward to teaching something new and hoping that it's relevant, and hoping that students find it relevant. I'm always looking to expand my toolbox of things I can teach," Kinberg said.
One of the books within the curriculum for this new class, "Eating Animals," inspired Kinberg to reassess his own diet.
"I'm curious [to see] how [students are] going to take the book 'Eating Animals,' which was one of the catalysts for my choosing to go toward a vegetarian diet," Kinberg said.
This class will develop sustainability literacy within students through documentaries and novels. Kinberg wishes for the students to use this class as a gateway to exploring a different kind of literature while still exploring the topical concept of sustainability.
"I want students to develop a love, that's the ultimate goal, but at least an appreciation of literature, a wide variety of literature. I really want to focus on the social justice aspect of environmentalism," Kinberg said.
Principal Kevin Buchanan commented on how this class will address various elements of environmentalism that have also been touched on in previous English classes.
"[We need to learn about] who are the great writers that talk about our planet, our environment and our relation to the environment," Buchanan said. "Man against nature has been a fundamental conflict in English literature for years, whether it's Sisyphus pushing the rock up the hill or Moby Dick, man against whale. I think it's a ripe area of study … It's all wrapped around the district's idea[s for] environmental goals."
Junior Sara Ghazanfari is intrigued to see how this class can help her and her classmates find various methods to address environmental issues.
"I would definitely try it out. I am interested in how to help the environment, and I'd love to learn about different problems and ways to solve them concerning it. It sounds interesting," Ghazanfari said.
About the Contributor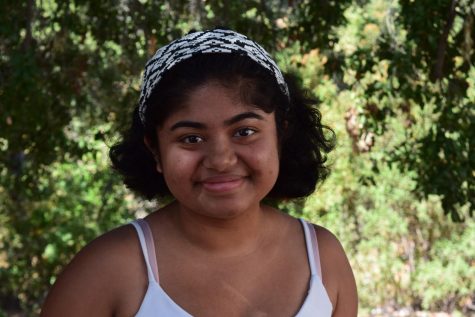 Atmika Iyer, Editor-in-Chief
Atmika Iyer is a senior at Oak Park High School. She is currently the 2019-20 Editor-In-Chief, served as the Opinion Editor for the 2018-19 school year...