Athlete of the Week: Makai Richards
Oak Park High School senior and boy's varsity basketball player Makai Richards has been chosen as the athlete of the week for the week of Feb. 3. He is specifically recognized for the games against Moorpark High School and Simi Valley High School.
"Makai scored 15 points, 11 rebounds and 8 blocks [against] Moorpark and
10 points, 18 rebounds and 7 blocks [against] Simi Valley," wrote Varsity Head Coach Aaron Shaw.
Being athlete of the week means a lot to Richards.
"It feels pretty great because, I mean, I always see people's names getting called so it's kind of a special feeling having mine [be called]," Richards said.
Richards has been working hard throughout his basketball career with the help and support of his older brother, Zeke Richards.
"I played since like seventh grade but I've played earlier, when I was a lot younger with my brother," Richards said, "I usually do trainings, like three or four times a week with a private trainer."
Richards is hopeful that the team's hard work will pay off in the last bit of his season and the start of CIF playoffs.
"I think we're 25 and two right now, so we're about to break the Ventura County record," Richards said.
With the win over Agoura High School last Thursday, their record will stand at 26 – 2 overall and 10 – 0 in league. OPHS boy's varsity basketball is in Division II for CIF playoffs.
"We should be pretty good in CIF, we have our first game on Wednesday," Richards said.
The team has traveled around Southern California for various tournaments throughout the season. Richards notes that they have helped with not only improving their skills, but team bonding as well.
"Everyone's coming together and everyone's being friendly and stuff like that… we've had a couple of group trips like Palm Springs and I believe San Diego… we're pretty solid together," Richards said.
Richards would like to continue his basketball career outside of OPHS. His end goal goes beyond college, seeking a possible career in the NBA.
"The end goal will probably be playing in the NBA with my brother, which is like one of his dreams and I have also dreamed of it too. It would be a pretty big accomplishment for us, if we can get there and make our parents proud," Richards said.
About the Writer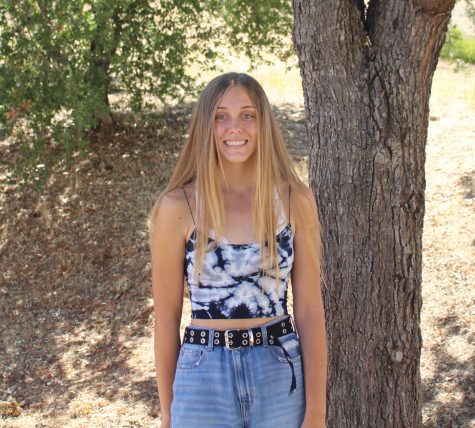 Lucy Anne Heine-Van Fossen, Senior Staff Writer
Lucy Anne Heine-Van Fossen joined the Talon in the 2018-2019 school year as a Staff Writer and served as a Senior Staff Writer in the 2019-2020 school...