Welcome to Havana
All you need to know about Vice 2020
Dates. Dancing. Dresses. Dinner.
Vice, occurring Feb. 28, is modeled after the Latin-American, coastal country of Cuba, specifically in its largest and most vibrant city founded 501 years ago: "A Night in Havana."
"The whole ASB Class brainstormed together to come up with some sort of theme," sophomore ASB President Amaan Nabeel said. "I remember somebody came up with a Birthday Themed Vice. The Dance committee took all the ideas and narrowed it down … [they decided on] a tropical-themed dance. And one day it all just clicked and 'A Night in Havana' just worked out
Similar to the last homecoming, where the food options for students were expanded to dinner food for the first time in years, the Associated Student Body will continue to provide those options. 
"We have taco carts coming," senior ASB publicity, spirit and social media commissioner Johnny Neville said. "In addition to the dessert and baked goods, we usually have."
In previous years, the ASB used the services of SOS Entertainment for the decor and event design for homecoming and Vice. 
According to the SOS Entertainment Website, they "have the experience and resources to make everything come alive."
In order to manage their budget, this year ASB is having history teacher, Russell Peters and his stage crew, set up the pipe and drape backdrops that cover the Pavillion.
"Crew is going to be helping out this year … [because] it's my understanding that this is a very expensive process to be done," Peters said. "We have to pay crew to do this because it's outside of their normal duties … I'm sure it's less expensive than it would be to have a company come in."
From this, ASB manages to save around $1,500, the differences between how much it would have previously cost for SOS Entertainment's services as compared to the cost for crew to do it.
"It has been a lot harder to fundraise money than it has ever been before. ASB has been denied to have certain fundraisers due to district policies that they have to now follow," Nabeel said. "ASB has to tackle new ways to fundraise money fast for school events and programs so these events can be amazing as they are and eventually even better."
Purchase tickets at the student store, on the Oak Park High School Instagram account or by going to bit.ly/32vV9Lf.
About the Writer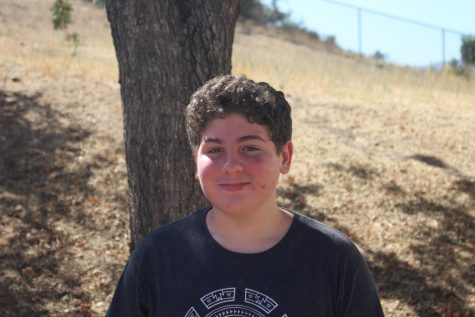 Oliver Carter, Senior Staff Writer
Oliver Carter is a sophomore at Oak Park High School. He joined the Talon in the 2018-19 school as a staff writer and is currently a Senior Staff Writer...