Oak Park community paints rocks along the trail posts
Neighborhood unites with messages of hope
Dozens of painted stones now sit on the Medea Creek trail posts, featuring everything from inspirational quotes to Dwayne (the Rock) Johnson. 
This trend, known as the #kindnessrocks movement, has skyrocketed as social distancing has become the norm. Founder Megan Murphy believes that the movement helps people unite during the COVID-19 pandemic.
"We could all use more kindness to get through this difficult time and art therapy is one way to keep a positive sense of purpose," Murphy said in an interview with Better Homes & Gardens.
In the Oak Park community, the activity emerged just before Ventura County announced a Stay at Home Order, according to community member Jana Hand.
"I figured some child in the neighborhood started it because they were bored," Hand said. "[And when I saw those rocks] I thought to myself, 'This is pretty special.'"
Hand and her two young children have already painted over 20 rocks, each with their own individual meaning. Some of Hand's favorites include a face with a mask on it, the Dodgers logo and a quote saying "This too shall pass."
"It's just such a cute idea, I think it gives Oak Park such charm," Hand said. "It's a very touching tribute to what our community is going through and the resilience of children. It gave us a purpose to make art that was more than just for us, but for the community."
Oak Park High School junior and local resident Jennifer Gluskin follows a similar mindset. She and her younger sister bonded by creating a rock design together.
"My little sister decided to go big or go home, and made a rock saying 'My rock is bigger than yours," Gluskin said. "It keeps the community still connected in these difficult times and it's a great thing to do during quarantine. You have nothing better to do, so why not paint a rock with a nice message on it and spread the positivity around?"
About the Contributor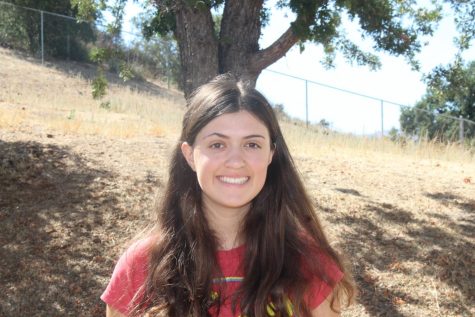 Shoshana Medved, Public Relations Manager
Shoshana Medved served as the Public Relations Manager for the 2019-20 school year.