Got toilet paper?
With the world in frenzy, certain products are flying off the shelves
Toilet paper is just one of the many products that have become hard to find during the COVID-19 crisis. 
WireCutter is an online news source that embeds links to hard-to-find products to help customers during these hard times. Jason Chen, Wirecutter's deputy editor, has found trends in home exercise equipment being bought online. Equipment such as kettlebells and treadmills jumped 55 percent in the month of March. 
Other than exercise equipment, people have been buying different products to make working at home easier and more comfortable. Things such as standing desks, computer monitors, ergonomic office chairs and quality webcams can fit into that category.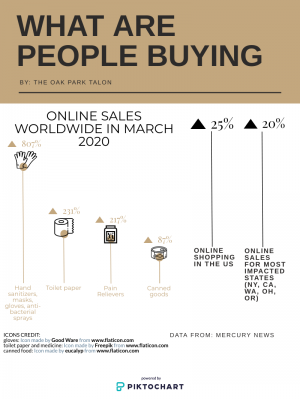 According to The Mercury News, online shopping has increased across the United States by 25%. States that have been impacted the most from COVID-19 such as New York, California, Washington, Ohio and Oregon have had online sales grow by 20% alone. In March, online sales increased worldwide for goods such as hand sanitizers, masks, gloves and anti-bacterial sprays increased by a shocking 807%, toilet paper by 231% and cold medicine and pain relievers by 217%. In addition, non-perishable canned and shelf-stable goods were bought 87% more than usual. 
The public has also been taking advantage of services being offered by businesses, often buying online and then picking up in the store. Between Feb. 24 and March 21, people began to request these procedures and chose to purchase items online 62% more than before quarantine. 
Certain companies are offering free shipping for people that are getting food and other necessary products online. Others are offering in-store pickup and safer conditions to shop inside, sometimes limiting the numbers of people inside at a time or requiring a mask to enter. 
While buying items in-store, online or during a pick-up, the Talon urges everyone to stay safe. 
About the Contributor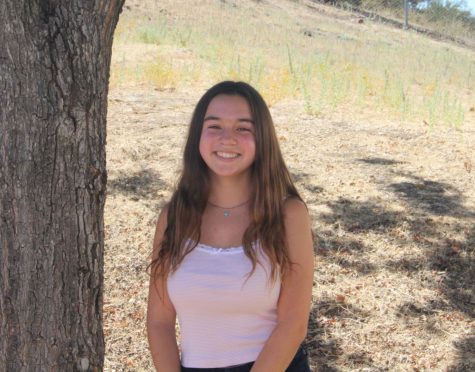 Emily Francis, News Editor
Emily Francis is a junior at Oak Park High School. She is currently one of the 2019-20 News Editors, served as one of the 2018-19 News Editors and was...