Girls' basketball coaches: Doris Park, Cassandra Harris, Mhiah Vickers
New girls' basketball coaches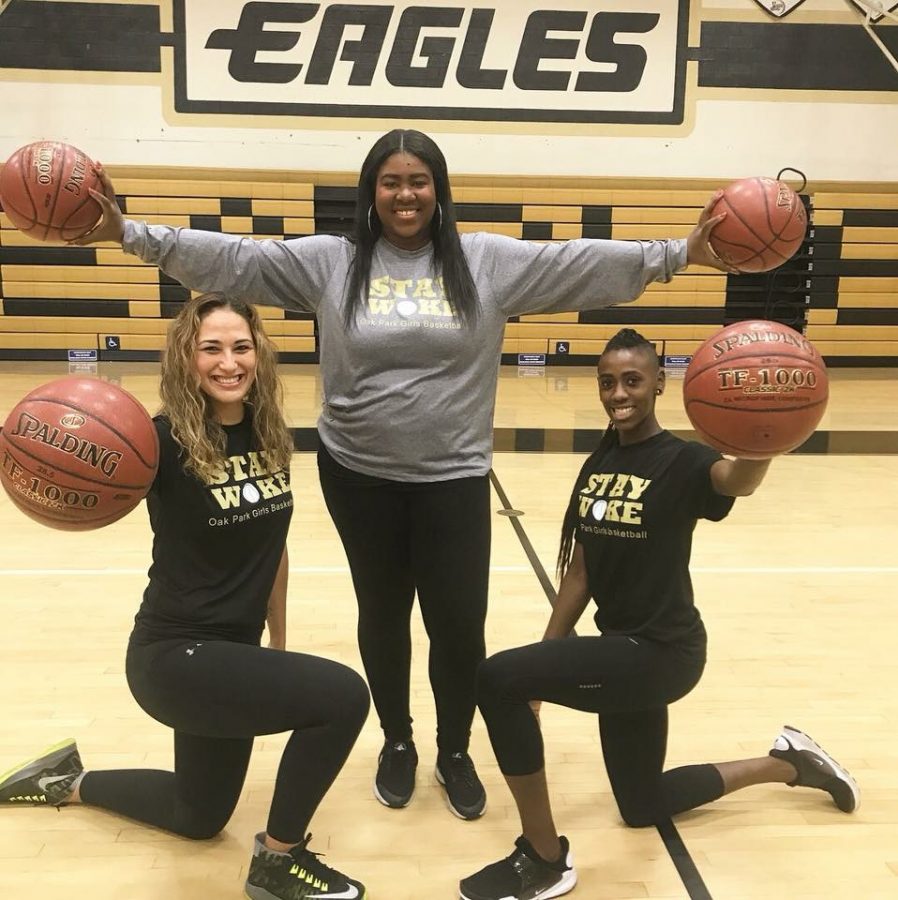 Girls' basketball coaches: Doris Park, Cassandra Harris, Mhiah Vickers
Hang on for a minute...we're trying to find some more stories you might like.
Doris Park, Cassandra Harris and Mhiah Vickers joined Oak Park High School as the new girls' basketball coaches over the summer of 2017.
Varsity girls' basketball head coach Doris Park said that her main goal for the team this year is building confidence within players.
"Our record last year, I think there were 4-21 [wins to losses] and now we're at 12-7, so they have already tripled their record from last year in wins so that's good to see," Park said. "So far it has been good coming up and changing the program around a bit to try to make it better,"
Doris played basketball at Newbury Park High School, then graduated to continue playing at Pepperdine University on a full scholarship. She also competed on multiple club teams.
"I made varsity as a freshman [in high school], but as a freshman you know your role," Park said. "Junior, senior year I was running the program with one of my other teammates. By the time we were 16, 17 [and] 18, we were developing leadership skills."
Even though she is originally from Philadelphia, Pennsylvania, she favors the Mississippi State College Women's Basketball team more. Besides that, she roots for players within the National Basketball Association.
"I am the biggest Lebron James fan in the world – he can do no wrong in my eyes. Any team that Lebron is on is my favorite team," Park said.
Before moving back to Oak Park, Park lived in Chicago for three years and coached the frosh-soph and junior varsity teams at a college preparatory school.
"[Oak Park High School] is my first varsity team program that I have coached," Park said.
Park said her goal for the girls' varsity team is to make it to playoffs and compete more often.
"The girls have really been working hard to help and assist me in changing the program around and changing their attitudes. They are really excited," Park said. "We want to bring back support for female sports."
Frosh-soph coach and junior varsity head coach Vickers currently rides a 1979 Honda motorcycle. Vickers went to Westlake High School, Santa Barbara City College and graduate school in Boston.
Vickers said she has a couple goals for the girls' basketball teams.
"I want to build a better program. I know with last years' seasons and a few years back, girls' basketball wasn't really getting a lot of attention that it needed, so coming in we wanted to start building a foundation for the girls' program," Vickers said.
Vickers said that although she is relatively close to the age of the players she coaches, being in her early twenties, there are obstacles she faces while coaching.
"The hardest part is trying to build confidence in a player who doesn't have confidence, but has all of the potential in the world," Vickers said. "It's hard to get the player to see them how we see them."
Harris has been coaching youth basketball since she was in eighth grade, starting with the the Newbury Park Basketball Association in 1998. She played with her Newbury Park High School girls' basketball team. Graduating as the lead scorer, she went on to earn a bachelor's degree in Literature at Yale University and currently pursues her own poetry. However, she still supports her two children, Lua and Kai.
"I still work – I work full time. I work for the State Department of Social Services and I played basketball in college," Harris said.
Harris said she wants to prepare her players for "life outside of basketball."
"Some girls get so entrenched in basketball that they kind of lose themselves when they stop playing, so education is hugely important," Harris said. "Teamwork is also a very important skill that will lead them into their lives."

About the Writer
Olivia Buccieri, Editor-in-Chief
Olivia Buccieri is a senior at Oak Park High School. She is currently the Editor-in-Chief of the Oak Park Talon. She served as a senior staff writer her...