Friday: Oak Park football defeats Agoura and Paris attacks
Hang on for a minute...we're trying to find some more stories you might like.
Happy Friday, Oak Park. Here's what you need to know to wrap-up your week and begin your weekend:
Last week: Eagles football earns playoff berth
After failing to win a game last season, the Eagles capped off a bounce back season with a victory over rival Agoura High School 38-12. Senior running back Frank Kaminski led Oak Park with 151 rushing yards.
This week: ComedySportz
Come to the ComedySportz game tonight in the Pavilion from 7 p.m. to 8:30 p.m. and have a laugh with friends. This special event features many of your very own teachers, playing the role of ComedySportz athletes. Come and support your classmates and teachers and have a great time. Tickets will be sold at the door for $5 with ID card and $7 for adults.
Next week: Food Drive and Common Core parent training
Next week is the "Santa Comes to Agoura" food drive. The drive will be held from Monday, Nov. 16 to Friday, Nov. 20 from 8 a.m. to 3 p.m. Non-perishable food items such as canned goods, cereal, etc. may be donated.
A Common Core parent training session will be held next Wednesday, Nov. 18 in the Pavilion from 6:30 p.m. to 8 p.m. Parents will learn more about the new Common Core system and how it affects their children.
Beyond Oak Park: 129 killed in Paris attacks, Islamic State claims responsibility
129 were killed and 352 were wounded in Paris, France in a series of coordinated terrorist attacks. The Islamic State has claimed responsibility for the incidents that took place at five locations within the city. Seven terrorists have been killed, but authorities say that an additional terrorist may be at large. Read more from CNN.
More Beyond Oak Park:
French president calls attacks "an act of war." Read more from BBC News.
U.S. airstrike likely kills ISIS terrorist "Jihadi John." Read more from NBC News.
Trump enjoys double digit lead over Carson. Read more from Yahoo News.

About the Writer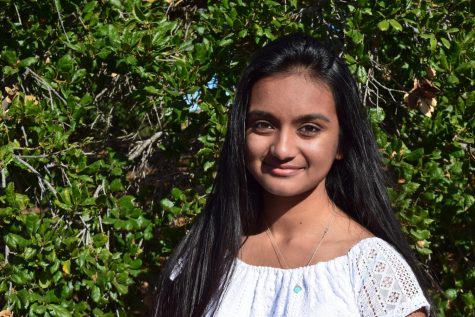 Medha Vallurupalli, Former editor-in-chief
Medha Vallurupalli served as print and online editor-in-chief during the 2017-18 school year; online editor-in-chief and news editor during the 2016-17...