District proposes Bond Measure S
Bond measure to pay for school facilities, equipment with property tax
Hang on for a minute...we're trying to find some more stories you might like.
Oak Park Unified School District's governing board has placed a bond measure on the November ballot to upgrade and maintain Oak Park schools.
The measure needs to be approved by 55 percent of Oak Park voters to take effect in the 2017-2018 fiscal year.
"The Measure S campaign committee hired an outside agency to come in and do some polling. And, based on that, the numbers were favorable to the degree that the district felt it was appropriate to go forward with putting the bond on the ballot," Principal Kevin Buchanan said.
The bond measure has placed strict guidelines on the spending of raised funds, which can only be used for facilities or educational equipment.
"We plan on replacing systems — specifically the air conditioning and other systems that will, over time, need to be replaced," Buchanan said.
The district is also looking to better accommodate career technical education programs at the high school.
"Engineering, robotics, architecture, construction design, all those programs are kind of crunched. So creating space, creating another bungalow — another one of these container classrooms — is in the plan," Buchanan said.
In addition, the collected funds will also go toward the general upkeep and maintenance of campus facilities.
"Now that the [high] school has been completely modernized and is in really great shape, we need to keep it this way," Buchanan said.
The school district has provided a detailed plan, called the "Needs Assessment Plan," that specifically outlines areas where all the schools in the district need improvement. Currently, a link to the plan can be found on the district website's home page.
"We came up with a list — a wish list and then that went through a series of revisions and then we came up with a reasonable needs assessment," Buchanan said.
In the past 10 years, the district has issued other bonds for Oak Park residents to repay: Measure R and Measure C6. These bonds concerned facilities and school technology.
"We have some parts of facilities that were not able to be addressed in the last bond measure so some of those things are going to be addressed in this bond measure," Buchanan said.
Measure C6 focused on the technological improvements of the district.
"[Measure C6] was about providing training, devices, infrastructure in terms of wiring and fiber optics, broadband capabilities and all the wireless access points you see all over school," Buchanan said.
With the addition of the Bring Your Own Device program, the district, using C6 funds, has added additional servers to accommodate the increasing number of internet-users.
"Comparing the increasing usage over the last 10 years, the amount of people that are on our internet server has grown significantly, so we've had to put in new servers to handle the capacity," Buchanan said.
C6 also provided the funds for the Smart Boards, chromebooks and technology carts students use at the high school.
"[The goal] was to increase the technology that was available for students," Buchanan said.
In addition to technology, C6, also provides funding for school equipment.
"We used C6 to modernize the Pavilion: all the new lighting," Buchanan said. "C6 also provided all the lockers in the band room — even bought some of the instruments."
Overall, C6 has been generating funds for various programs and classes.
"C6 has been used throughout the district to buy anything that is related to technology whether it's support technology to keep our campus clean and organized, infrastructure that would allow us to create more instructional programs or if it's just to help a program get on its feet. We used $100,000 of C6 money to buy instruments, lockers, racks, sheds [for the band program]," Buchanan said.
"
Now that the [high] school has been completely modernized and is in really great shape, we need to keep it this way."
— Kevin Buchanan
Measure R, however, focused on the general maintenance of Oak Park campuses.
"One of the concerns that was on the mind of the district level and of the bond oversight committee, who also oversaw Measure R, was the ongoing maintenance and upkeep of facilities," Buchanan said.
According to Buchanan, the money from Measure R allowed for the modernization of Oak Park High School and Brookside Elementary School.
"Oak Hills and Medea Creek have not received much modernization funds," Buchanan said. "So much of Measure S will go toward modernizing Medea and the two other elementary schools."
As of now, the funds collected from Measure R have been depleted.
"Measure R is spent. It actually didn't cover all the things that we would've liked it to cover. There were still things that were left over from Measure R that we'd like to still do," Buchanan said. "There is still some C6 money left to spend, but not Measure R."
The bond measure provides for the sale of $60 million worth of bonds, to be repaid over several years by Oak Park property owners.
That value only represents the amount of money the school can spend, however.
In a letter from superintendent Dr. Anthony Knight that appeared in Oak Park sample ballots, Knight wrote that after principal and interest, the total value to be repaid is estimated at $136 million.
The difference, then, is paid in interest to independent bond holders and investors.
To finance the measure if it passes, Oak Park residents will be required to pay an additional $60 on property taxes for every $100,000 their home is worth. Local businesses will also be subject to assessment.
In the case of the median home price in Oak Park, valued by Zillow at $727,400, the increased property taxes would be worth approximately $440.
Whether or not this measure passes, Oak Park residents will see a general decline in their  amount of property taxes paid.
"There is another bond that has fallen off the tax roles. It has now been paid off. So it'll come off people's taxes. If Measure S passes, it will go on," Buchanan said.
The previous bond, Measure E, was issued in 1977 in order to pay for the original construction of Oak Park schools. At the outset, Measure E raised property taxes by $200 for every $100,000 of valuation, although that number has decreased over time. As of this fiscal year, the cost has been $82 for every $100,000.
For the median home price, the net decrease in property taxes should Measure S fail would be approximately $600. The decrease should Measure S pass would be $160.
The text of Measure S also requires several taxpayer protection policies that govern the spending of bond money.
First, it requires the establishment of an independent committee to oversee the district's progress and hold it accountable. Additionally, the measure requires the board to submit an annual performance and financial audit.
The committee would need to comprise at least seven Oak Park residents who cannot be district employees, contractors or vendors.
The measure also places limits on where the funds can be spent. To protect against abuse, it explicitly prohibits bond money from going toward the salaries of teachers or administrators.

About the Writer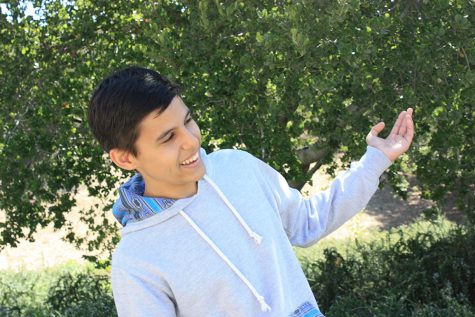 Gui Andrade, Former Editor-in-Chief
Gui Andrade is a part-time writer, part-time speaker and part-time programmer who just wishes he could do it all. Since joining the Talon, he has been...