Buying success: A college-bound mentality holds costs and benefits
College, preparation take significant investment
Over 65 percent of all jobs in the economy will require an education beyond high school by the year 2020, according to a study conducted by Georgetown University.
With a college education needed to pursue a significant number of occupations, college enrollment rates have periodically increased from 26 to 41 percent from 1980 to 2012, according to the National Center for Education Statistics.
This constant increase in student applicants forces colleges to steadily decrease their acceptance rate and ultimately raises the competition for student acceptance. For example, in 2000, Stanford University's acceptance rate was 15.9 percent. Today, the university's acceptance rate is 4.8 percent.
At Oak Park High School, teachers, administrators, peers and parents create opportunities for students to understand the standards of success necessary to earn a spot at a top-tier university. However, to turn those standards into a reality, many students choose to make sacrifices, both financially and with their own health.
The cost of college begins in high school, whether through intense studying or spending money on tutors and college counselors to increase the likelihood of being accepted to a school. Students attempt to stand out in their college applications with a high GPA, extensive AP class participation and scores, high standardized testing scores and copious extracurriculars.
According to a 2013 report coauthored by MIT economics professor Michael Greenstone, high-income families spend as much as $9,000 per year on college preparation courses, private tutoring, and other activities.
Overall, tutoring and test preparation is a $4.5 billion industry. Private test preparation tutors range from $100 to $200 an hour, and classes from companies like Elite Educational Institute and Princeton Review can charge nearly $1,000 per preparation program. However, in a 2009 study conducted by the National Association for College Admission Counselors, test-preparation classes were found to have a "minimum positive effect on both the SAT and the ACT." It was found that, on average, students gained 30 points on the SAT and one point on the ACT following a preparation course.
In 2014, 583 people got a perfect score on the SAT out of 1,672,395 test takers. While 1000 is the national average SAT score, many students take costly measures to earn a score in the top tier. Having to choose between cost-effective self-studying or an expensive preparatory class, students undergo months of preparation and, for many, anxiety as they prepare for the $54 SAT or $56 ACT.
Oak Park High School offers 20 AP classes. First started in 1956 to encourage students to seek a college education, the Advanced Placement Program has become a standard class in the majority of American high schools. According to College Board, the class of 2013 took 3.2 million AP exams.
With the pressure for students to score highly on the Advanced Placement exam, many families turn to additional tutors, such as Elite Educational Institute, where, depending on the location, a 12-week AP exam course costs students $960 per subject.
Students are further encouraged to purchase and take the $93 base-price exams through cash incentives in some states. For example, the Advanced Placement Incentive Program is an organization that offers $100 to $500 rewards to both teachers and students at some Texas high schools for each passing test score they receive on an AP exam.
The costs do not stop with test preparation.
Once the time comes for seniors pursuing higher education to apply to colleges, students must choose between attending a community, public or private college –– a choice that will determine how much money they would have to pay off in the successive years.
The average University of California school tuition and fees are $34,200 per year, while Moorpark Community College has an annual tuition of $1,388 in comparison.
However, students still have multiple opportunities to save money on college. With admitted students earning a maximum of 5.3 semester units for each AP exam taken for University of California schools, AP students have a greater possibility of graduating a public or private college in four years, thus saving thousands on potential added tuition.
Higher GPAs and standardized test scores — often necessary for admission — also open students to a greater chance of earning a merit-based scholarship award, which can range from $8,000 to $72,000 toward their undergraduate education.
But with more people seeking undergraduate degrees, the demand for graduate school has increased as well, according to the World Education Services.
After all, in a 2009 study conducted by the Census Bureau's Survey of Income and Program Participation, undergraduates were found to earn an average salary of $46,032, while Master's degree graduates earn an average annual salary of $57,264 for the higher education they obtained.
However, with all the requirements and testing needed to be competitive for higher education comes — along with the financial price tag — student health issues such as stress.
According to teenage psychologist Mary Alvord in a recent study, "a little stress and in moderation can be helpful to high schoolers in so many ways. It motivates them to study, to do better. It helps push them."
Too much stress, though, has detrimental effects to the body: memory loss, depression, loss of sleep and a degrading immune system are all potential effects. And because each student has a different psychological capacity for stress, it is hard for schools to know what the limit for student stress should be.
College Board has already recognized the extreme stress inherent to the tests, and has taken measures to alleviate the stress.
The new SAT, which reverted back to the 1600-point scale in 2016, has simplified vocabulary and reading portions that connect to subjects an average high schooler learns in school. Additionally, the penalty for guessing has been removed, and the essay portion made optional.
Families weigh consequences of preparation courses
SAT. ACT. AP Exams. Any one of these tests can make most students think of the endless financial expenses "recommended" in high school in order to get into a top-tier college.
Whether the top-tier college is an Ivy League or a University of California school, acceptance does not come easy financially. While Oak Park High School has a reputation for being an academically competitive and financially well-off school, with college acceptances right around the corner, concern over college expenses has surfaced within the student body.
"The competition within our school is excessive, so people pay a lot of money for SAT and ACT prep. Along with that, people pay a lot of money on college essay assistance," junior Sujith Pendekanti said. "We don't even know if we are guaranteed a spot in college."
Within the college preparatory pathway, students, such as sophomore Grace Ma, said they believe that academic success is primarily reliant on the financial aspects of one's annual income as opposed to hard work.
"The world is all about money right now, and I feel as though people think that you can just pay for a good score or pay for your future. While that isn't morally correct, in our world today there are definitely many instances in college prep that support this idea," Ma said. "I think that this is an unattainable reach with an average income. It truly challenges the argument between students needing money or intelligence to be competitive in the college application process."
Around this time of year, sophomores usually receive a basic understanding as to which standardized test they will be taking. While making this decision, many Oak Park sophomores also sign up for summer SAT or ACT boot camp courses to prepare for the exams.
"While looking into ACT and SAT prep nearby, I can tell you for a fact that local branches are very expensive. This is obviously unfair and there are only a select percentage of the population that can truly afford it," Ma said.
"
The world is all about money right now… this is an unattainable reach with an average income. It truly challenges the argument between students needing money or intelligence to be competitive in the college application process."
— Grace Ma
Upperclassmen who have already taken these courses have differing stances on how helpful they think they are. Pendekanti said that the SAT prep classes weren't very helpful.
"As a junior, it was our first year taking the new SAT.  I don't think [the course] paid off that much because all we did was take practice tests. [Of those], most of them were online.  However, I think that the boot camp definitely motivated me to put effort into the SAT because without it, I probably would not have studied on my own," Pendekanti said.
Tyler Ford, Oak Park High School alumnus and University of Oregon freshman, shared a different opinion on the benefits of SAT and ACT prep.
"I would say it was worth it. I went to two SAT boot camps, took the PSAT, mock SAT, had an SAT tutor once a week for two months, took the SAT four times and the ACT once. So you could say my family had spent a substantial amount of money to get me prepared for the application process," Ford said.
The financial aspects of the college preparatory process, coupled with the decision of which colleges to apply to, have students exploring different options for their future.
"I am currently at Moorpark [Community College] and I would totally recommend it. The cost of community college is often drastically lower than that of a four-year institution. For example, the cost of a unit at Moorpark College is just $46 per unit whereas that of a four-year school like USC is nearly $2,000 per unit," Claire Matulis, an Oak Park High School alumna and Moorpark College freshman, said.
Transferring from a two-year institution to a four-year institution is a common decision made by many high school graduates due to the drastic difference in tuition fees. Between 2009 and 2016, 716 Oak Park students enrolled at Moorpark Community College.
However, Matulis said she believes that there can be a negative stigma in Oak Park regarding attending community college; even so, she said she sees the educational quality of a two-year and four-year college as equivalent.
"I think although the stigma can act as a motivational tool while you're in high school, it's overrated. Someone can get a just as good, if not better education, from a two-year institution than at a four-year because of things like smaller class sizes, more opportunities for classes in your major and financial opportunities," Matulis said.
When planning to attend a four-year university, Oak Park students and their parents may invest significant sums into college preparation. For parent Audrey Freeman, this is an entirely different climate from when she was a young adult.
"
Someone can get a just as good, if not better education, from a two-year institution than at a four-year."
— Claire Matulis
"I didn't know SAT prep courses existed. I didn't do that well on the SATs, because we didn't even have APs. I graduated law school in 1989 with $80,000 in student loans. It took me until my early thirties to pay back, which I did," Freeman said. "I worked the whole time I was in college. In the summer I worked full time. I did what I had to do to get it all paid. I am not going to lie, it was not easy, but it had to be done."
Spending on preparatory camps and courses can, in some cases, reach into the thousands of dollars.
"Our family spent quite a bit of money on ACT prep. We spent around $4,000 total.  It was kind of hard on our family, to be honest," a parent who wished to remain anonymous said.
However, there are alternatives to paying a large sum of money for prep courses.
"There are many free resources to prep for the SAT, the most popular being Khan Academy, which recently partnered with the College Board. The College Board is who administers these standardized tests, so the 'practice questions' are coming directly from the tests," college and career advisor Jean Gilbert Hawkins said. "More free resources for standardized tests can be found on the Oak Park High School website."
As for the effectiveness of all of the expenses in the long run, students have varying opinions.
"
There is no secret method to [getting] a great score… you can practice on your own and save so much money."
— Max Davis
"Honestly with AP Exams, the costs were not worth it because my school and major didn't accept a lot of the science and math exams. They wanted us to do those courses again college-style, but then again, maybe I wouldn't have been as competitive in my admissions without them, so I don't really know," Priyanka Dave, Oak Park High School alumna and University of Southern California freshman, said. "The prep was worth it because I don't know how else I would have been as well-prepared."
Some alumni said they believe that these courses were not as helpful as they make themselves out to be.
"To be completely honest, it didn't really help. Having a tutor for the ACT and SAT basically make you do problems and then they will check your work. I guess it was nice having someone there to oversee everything but honestly people can self-study for it," Max Davis, Oak Park High School alumnus and University of Southern California freshman said. "There is no secret method to [getting] a great score. It's like anything else in life: If you want to do well, you've got to practice. And you can practice on your own and save so much money."
About the Writers
Michelle Deyski, Former News Editor
Michelle served as the news editor for the 2018-19 school year. She graduated from Oak Park High School in May 2018. She will be attending Cal Poly SLO.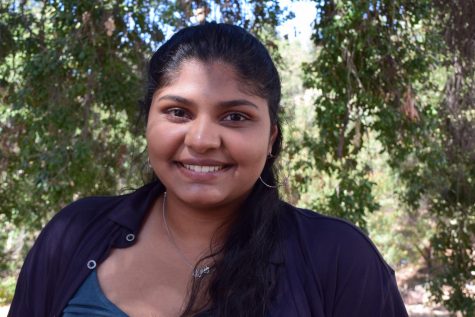 Sravya Gadepalli, Managing Editor
Sravya Gadepalli was the managing editor for the 2017-18 and 2018-19 school years.