Track and field athletes compete in preliminary finals
Oak Park high school track team participates in the preliminary meet
Hang on for a minute...we're trying to find some more stories you might like.
Eighty-five athletes on track and field qualified to compete in various events in the league preliminary meet.
Several athletes achieved personal records and moved on to League Finals.
Prelims took place May 1 at Moorpark High School. For athletes to qualify for finals, they needed to finish in the top nine for the 100, 200 and 400 meter races. For other races and field events, the top 12 would be accepted.
"[Oak Park] did well at both in the past," head coach Steve White wrote. "We have several individual league champs [and] I expect the same this year."
Freshman Stephanie Levy experienced competing at Prelims for the first time. Levy's events are the 100 meter, 200 meter and discus. She achieved a new personal record for discus at 65.5 feet.
"I was just excited to go out and do my best and see the rest of the team go out and do great," Levy said.
Sophomore Solei Burgess runs the 1600 and the 800 meter races. She will be running the 3200 at finals. This was her second preliminaries; however, she faced a challenge that held her back during regular practices.
"I recently got really bad tendonitis in my ankle, so I haven't even been able to run in practice, Burgess said. "I was proud of myself for even finishing my race and pushing through all the pain."
Burgess has a ritual before races and bigger meets.
"I usually wear my lucky sports bra and lucky socks," Burgess said.
Sophomore and varsity runner Michael Holcomb ran the 400 meter and will be advancing to League Finals. "My goal for finals is to go under 51 seconds and win league in the 400," Holcomb said.
Holcomb has been running track since he was five years old and shared the rewarding feeling of watching others do their best.
"My favorite part was seeing everyone else compete at the highest level and achieve their own personal goals in their races," Holcomb said.
Senior and varsity runner Emily Stephens runs the 800 meter, 1600 meter and occasional 4 by 400 meter relay. She has been running track all four years of high school, and this is her fourth preliminaries. "I was looking forward to running with my teammates as well as other schools, because [at Prelims] all the schools in our league run together unlike our dual meets which is just us and one other school," Stephens said.
Stephens set her own personal record for the season, and she also accomplished her goal of qualifying for finals. She also enjoyed watching the team's hard work pay off.
"I loved watching my teammates run [and get] [personal records]," Stephens said. "It's exciting to see everyone accomplish their goals."

About the Writer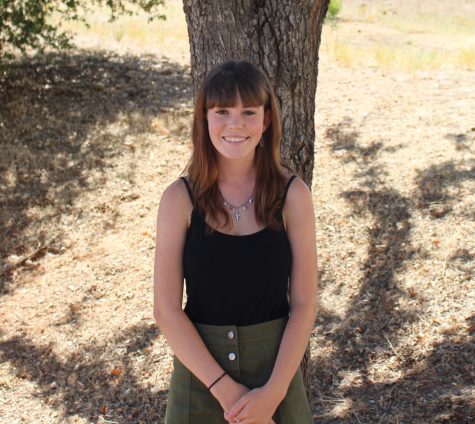 Ellie Hand, Digital Media Manager
Ellie Hand is a sophomore at Oak Park High School. She is currently the 2019-20 Digital Media Manager and served as the Digital Media Manager for the 2018-19...