Oak Park alumni: Troy Gentile
Oak Park alumnus now stars on "The Goldbergs"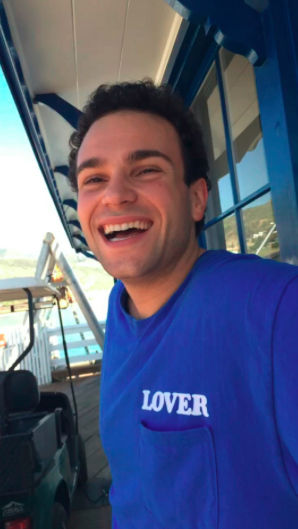 From a young age Troy Gentile had an interest in acting, and today he stars on the award-winning TV show "The Goldbergs."
Troy Gentile graduated from Oak Park High School in 2012 and currently resides in Southern California. Gentile plays the middle child, Barry Goldberg, on the TV show "The Goldbergs."
The now 24-year-old has held numerous roles in both television and film throughout his career. In 2005, Gentile had his first role as Matthew Hooper in "Bad News Bears." Later, in 2006 Gentile played Young Nacho in "Nacho Libre" alongside actor Jack Black. Due to his resemblance to Black, he also played a younger version of the star in "Tenacious D in The Pick of Destiny."
After Gentile graduated from Oak Park High, he earned a starring role in "The Goldbergs," a sitcom about a family living in an American suburb during the 1980s. The show was syndicated in 2017 and receives viewership in the millions.
Gentile has been acting on the show since 2013, but his focus is not only on work.
"My favorite thing on set is definitely the food, and when catering comes over and gives me a hug because they all love Nacho Libre," Gentile wrote to the Talon.
Similar to his "Goldbergs" character, Barry, one of Gentile's favorite music genres is hip-hop. Taking a glance at Gentile's social media, there are multiple references to artists like Eminem and Kid Cudi. Outside of work, Gentile enjoys Laker games, food and music.
"Whenever I'm back home I'm always eating out with my friends, especially Brent's Deli," Gentile wrote.
Brandon Komet, who has been friends with Gentile since the seventh grade, commented on one of Gentile's hobbies, music.
"Troy is always a lot of fun, we've been to a bunch of music festivals," Komet said. "We've been to Coachella the past four or five years together."
Gentile played football all four years of high school.
"My favorite memories from Oak Park High was hanging out at my lunch table, being in Mr. Creason's class and being in Mr. Kinberg's class," Gentile wrote.
English teacher David Kinberg had Gentile in his English class in 2010, but even then he knew of Gentile's aspirations.
"Troy had always wanted to be an actor… he was always going on auditions," Kinberg said. "[He] liked to make people laugh. He liked to entertain."
Gentile said he had impactful memories of history class with teacher Todd Creason.
"Troy was extremely outgoing, he had a big personality, he was fun to have in class," Creason said.
Gentile reflects back to his past accomplishments, and what he wants for the future.
"Ultimately I want to be working and internally happy," Gentile wrote. "I think life unfolds and we should all have goals, but ultimately we should take it one day at a time."